Home
JUDGES WANT TO EXTEND MILOSEVIC'S WORKING HOURS
A Dutch cardiologist was asked to submit by 8 August his expert opinion on whether the health of the accused would allow the court to sit for longer than the four hours a day/ three days a week, as is currently the case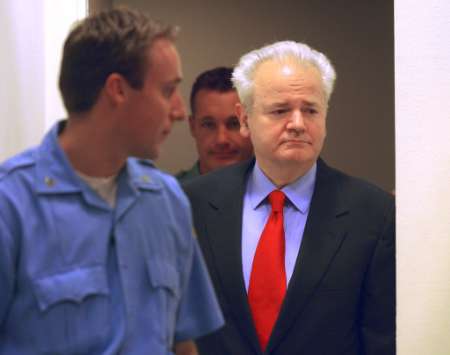 Slobodan Milosevic enters the courtroom
In an effort to speed up the trial of Slobodan Milosevic, the judges have asked Dutch cardiologist Dr. van Dijkman to submit his expert opinion on whether the health of the accused would allow the court to sit for longer than the four hours a day, three days a week, as is currently the case. Dr. van Dijkman has been asked to submit his opinion to the Chamber by 8 August – on the basis of the available medical charts and additional examinations of the accused, if deemed necessary.
The Chamber's order proposes several possibilities for extending the working hours and speeding up the trial. One is to continue at the present pace of three days a week, but with extended working hours. The second option is to sit for four or five days a week, and the third is a combination where there would be two or three four-day weeks in a month, while the rest of the time the trial would proceed at the present pace. The Dutch cardiologist is asked to provide his expert opinion on these and other possibilities.
At a status conference on 14 April, the prosecutor proposed that the court should sit four or five days a week, because in his view the health of the accused had improved. Milosevic opposed this motion strenuously, claiming he still had a chronic cardio-vascular condition. The judges indicated at that time they would be seeking an opinion from the cardiologist as to possibilities to extend the working hours when they deemed it to be appropriate.