Home
DEFENCE SEEKS MILDER SENTENCE FOR MIROSLAV DERONJIC
At the appellate hearing, the defense of the former president of the Bratunac Crisis Staff urged the judges to give greater weight to the mitigating circumstances and Deronjic's readiness to tell the truth about the events in 1992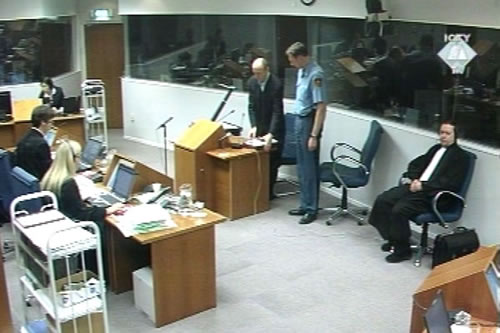 Miroslav Deronjic in the courtroom
The defense seeks milder sentence for Miroslav Deronjic, former president of the crisis staff in Bratunac. After pleading guilty he was sentenced to 10 years in prison for the murder of 64 Bosniak civilians and the destruction of the village of Glogova in May 1992.
The sentence imposed by the Trial Chamber did not depart from the recommendation in the plea agreement Deronjic made with the prosecution (the defense recommended 6 and the prosecution 10 years in prison). His defense counsel Slobodan Cvijetic nevertheless considers that the Trial Chamber gave too great a weight to the aggravating circumstances and too little to factors in mitigation, when it imposed the sentence.
At the hearing today before the Appeals Chamber, Cvijetic said that the Trial Chamber had taken into consideration facts that were not part of the plea agreement and that the crimes Deronjic had pleaded guilty to should not have been separately considered as aggravating factors. On the other hand, the defense contends, not enough weight was given to Deronjic's readiness to cooperate with the prosecutor as a mitigating factor. "Miroslav Deronjic agreed to cooperate and testify at other trials before and after his sentencing," his lawyer notes, adding that the prosecution never called him to testify at the Oric trial despite a lengthy interview he had given. "Mr. Deronjic's desire to tell the truth obviously exceeds the needs of the Tribunal," Cvijetic concluded.
The prosecutors responded that the defense objections were inappropriate and that the Trial Chamber had already taken into account all those circumstances when it had sentenced him to 10 years in prison.
In his address to the judges at the end of the hearing, Deronjic said some aspects of his role in the attack on Glogova had been misinterpreted. He admitted to having ordered the attack, but he says, "It was never my intention for the murders to be committed in Glogova. Indeed, for a long time I was unaware of them." He does admit that this outcome could have been foreseen, but considers that it was wrong to conclude that he had wanted it to happen. "I feel deeply sorry for all the innocent victims, without this my repentance would be hypocritical."
He notes he is trying to help in the determination of the truth. "When I pleaded guilty, I did not skip a single minor element of my actions. I even provided additional information as to my guilt… It is terribly difficult to testify about other people's guilt from the position of a guilty person. But I have said the full truth about myself and perhaps that gives me a little bit of a right to speak about the others."