Home
MIROSLAV DERONJIC IN SWEDISH PRISON
Miroslav Deronjic, convicted of the crimes in the village of Glogova near Bratunac in 1992, goes to Sweden to serve his ten-year sentence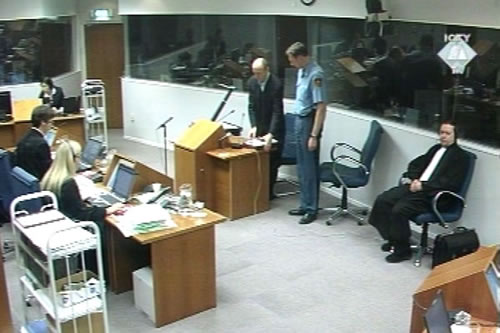 Miroslav Deronjic in the courtroom
Miroslav Deronjic pleaded guilty to the crime committed in 1992 in the village of Glogova near Bratunac and was convicted to ten years in prison. Now he was transferred to Sweden to serve his sentence, it was announced at the Tribunal today.
Deronjic was a local official of the Serbian Democratic Party (SDS) in 1992. He was also the president of the Crisis Staff of the Bratunac municipality and in this capacity he ordered an attack on the village of Glogova on 9 May 1992 and the deportation of about 2,000 of its inhabitants, as he admitted. Sixty-five civilians were killed in the attack, many of the houses were set on fire and destroyed and the village mosque was torn down.
The seriousness of the crime, large number of victims, Deronjic's political position and his intent to ethnically cleanse that part of Bosnia merited "an extremely severe sentence", as noted in the judgment rendered by the Trial Chamber on 30 March 2004. Yet, thanks to mitigating circumstances – guilty plea and substantial cooperation with the prosecution, that involved his testimony at the trials of Milosevic, General Krstic, Krajisnik and VRS officers indicted for the Srebrenica crimes – the Chamber accepted the recommendation made by the prosecutor to impose a sentence of 10 years in prison. The sentence was confirmed by the Appeals Chamber in July 2005.
Apart from Deronjic, eighteen other persons convicted by the Tribunal are serving their sentences. Spain has received three convicts (Drago Josipovic, Vladimir Santic and Darko Mrdja), as has Norway (Zoran Vukovic, Radomir Kovac and Dragan Obrenovic), while two each were received by Austria (Dusko Sikirica and Mitar Vasiljevic), Germany (Dusko Tadic and Dragoljub Kunarac), Sweden (Biljana Plavsic and Miroslav Deronjic), Finland (Hazim Delic and Esad Landzo) and France (Predrag Banovic and Mladjo Radic). Italy has received one person convicted by the ICTY (Goran Jelisic), as have Denmark (Ranko Cesic) and United Kingdom (Radislav Krstic).