Home
TEN YEARS CONFIRMED FOR DERONJIC
The Appeals Chamber rules that the Trial Chamber imposed a balanced sentence on the former president of the Bratunac Crisis Staff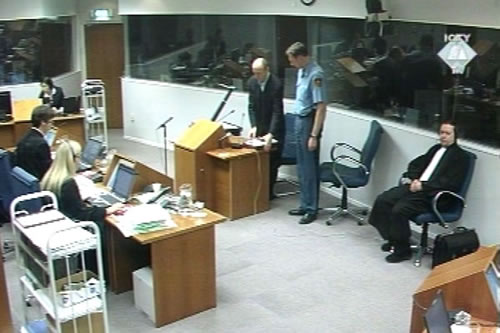 Miroslav Deronjic in the courtroom
The appeal filed by Miroslav Deronjic was dismissed by a unanimous decision of the judges sitting on the Appeals Chamber. They today confirmed the sentence passed by the Trial Chamber – the former president of the Bratunac Crisis Staff will serve ten years in prison.
Deronjic pleaded guilty to a crime against Bosniaks in the village of Glogova. In March 2004, he was sentenced to 10 years in prison – in accordance with the recommendation presented by the prosecutor in the plea agreement. The accused appealed, as he felt the Trial Chamber had given too much weight to aggravating circumstances, and not enough to the mitigating ones. The Appeals Chamber rules that the evidence has been studied in a balanced way and that the appellant failed to prove the Trial Chamber had erred in imposing the sentence.
In 1992, Deronjic was a local official of the Serbian Democratic Party (SDS) and the president of the Crisis Staff in the municipality of Bratunac. In this capacity, he ordered an attack on the Bosniak village of Glogova and the deportation of about 2,000 residents. This happened on 9 May 1992. Sixty-five civilians were killed in the attack, many houses were burned and destroyed. The village mosque was destroyed, too.
The seriousness of the crime, large number of victims, Deronjic's political position and his intent to ethnically cleanse that part of Bosnia merited an "especially severe punishment", the Trial Chamber noted in its judgment, but because of mitigating circumstances, such as his guilty plea and substantial cooperation with the prosecution, he was sentenced to 10 years in prison.
He will remain in UN Detention Center until his transfer to a country where he will serve the rest of his sentence.