Home
"LEGITIMATE INVOLVEMENT"
There was "no aggressive intention" in the involvement of the Serbian MUP "in the territory of Republika Srpska and the Republic of Serbian Krajina," claims Obrad Stevanovic, former commander of those units at the trial of Slobodan Milosevic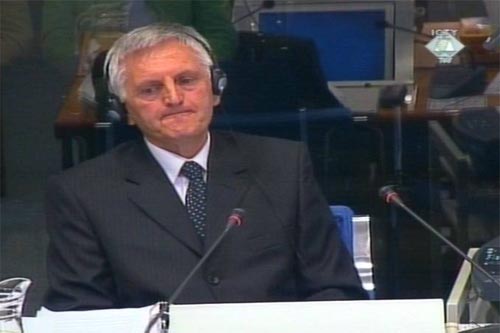 Obrad Stevanovic, witness in the Milosevic trial
Special units of the Serbian MUP that were deployed in the 90's outside of the territory of Serbia "have nothing to do with crimes" and "did not take part in any illegal acts", says the former commander of those units, General Obrad Stevanovic.
At the end of the examination-in-chief that lasted six and a half days, Slobodan Milosevic asked his witness about the forces mentioned in the indictments for Croatia and BH, after dwelling for several days on the events in Kosovo.
"There was no aggressive intention in the involvement of the special police," the witness claims. In Eastern Slavonia and Baranja, those units "carried out the regular police duties, at border crossings and traffic checks, and patrolled the area – all according to the plans of the local police commands," Stevanovic says. "Units from the Republic of Serbia were subordinated to the local police commands and complied with the subject-matter and territorial jurisdiction of the Republic of Serbian Krajina."
He noted that Arkan's Serbian Volunteers' Guard "was in Erdut at the time" and that he "met some people from the Guard on several occasions", but he claims that the forces were "part of the military of the Republic of Serbian Krajina."
Stevanovic also noted that the Serbian police guarded the stretch of the Belgrade-Bar railway line in the "territory of Republika Srpska" because of several cases of attacks and abduction of passengers. The witness also noted that his police were present in Banja Luka in September 1995, "on the invitation of Republika Srpska" where they had the same task as in Slavonia – regular police work.
Stevanovic states that he personally escorted, with his forces, the Dutch battalion out of the Srebrenica enclave in July 1995: he picked them up in Bratunac and took them through the Serbian territory to the crossing into Croatia on the Danube river.
Prosecutor Geoffrey Nice started his cross-examination of the witness. It will last the whole of next week.