Home
DEFENCE CALLS FOR HADZIHASANOVIC'S ACQUITTAL
Former commander of the BH Army 3rd Corps had "the most difficult duties in the most difficult situation" and should not be linked with the crimes, defense lawyer Stephane Bourgon told the judges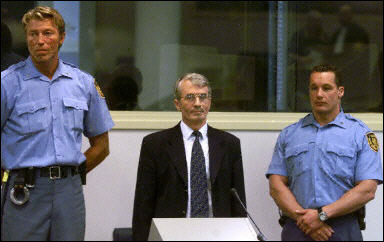 Enver Hadzihasanovic in the courtroom
The defense counsel of General Enver Hadzihasanovic called today for the acquittal of the former commander of the BH Army 3rd Corps on all counts of the indictment. "You have before you not a criminal, but a commander who had the most difficult duties in the most difficult situation," lawyer Stephane Bourgon told the judges in his closing argument.
The defense does not challenge the claims that crimes against all ethnic communities were committed in Central Bosnia, but in its view, commander Hadzihasanovic should not be linked with the crimes against the non-Bosniak population, not even for the failure to prevent and punish them – this is what the prosecution has charged him with. He was "a professional and good officer,", but the "situation he operated goes beyond anything we can imagine," his lawyer says.
Bourgon notes in particular that Hadzihasanovic had no influence over the mujahedin, who are responsible for the most heinous crimes in Central Bosnia. "Witnesses have stated that the foreign fighters were not part of the BH Army 3rd Corps and that they were not under its effective control."
The lawyer reminds the judges of the case of Tihomir Blaskic, an HVO commander in Central Bosnia. Although he had the authority to issue orders to the military police, Blaskic was acquitted of the attack of the military police unit on the village of Ahmici, because the Appeals Chamber found that at that point he had not had effective control over the unit. Hadzihasanovic's defense therefore fails to see "how the weak evidence presented by the prosecution" in this case might lead to the conclusion that Hadzihasanovic was the superior of the mujahedin and that he had command responsibility for their acts.
The defense of the second accused, Amir Kubura, will present its closing argument tomorrow.