Home
VINKO PANDUREVIC PLEADS NOT GUILTY
Former commander of the VRS Zvornik Brigade pleaded not guilty of genocide and other crimes committed in July 1995 in Srebrenica. Prosecutor prepares a motion for the joinder of the indictments for the eight Srebrenica indictees, expressing hope that the ninth person – General Zdravko Tolimir – would soon arrive in The Hague so that all of them can be tried together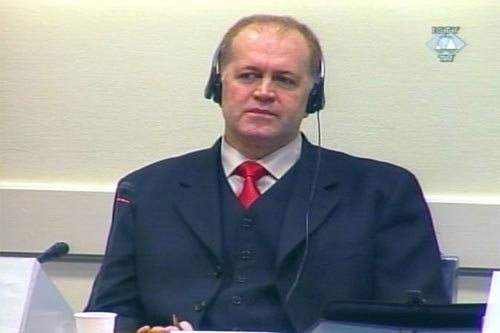 Vinko Pandurevic in the courtroom
After he postponed entering his plea by 30 days at his initial appearance, the Republika Srpska Army general Vinko Pandurevic pleaded not guilty today on the seven counts of the indictment charging him with the crimes committed in July 1995 in Srebrenica. Former commander of the Zvornik brigade is charged with genocide and complicity to commit genocide, extermination, murders, prosecution and inhumane acts. To each of the seven counts read to him by Judge Antonetti, Pandurevic replied with the same words, "Not guilty, Your Honor."
Another five officers of the Bosnian Serb military and police charged with the crimes in Srebrenica have also pleaded not guilty. They are Vujadin Popovic, Ljubomir Beara, Drago Nikolic, Radivoje Miletic and Milan Gvero. Ljubomir Borovcanin is due to enter his plea on Thursday on the same charges, while Milorad Trbic will appear before a judge on 11 May. They both opted to postpone entering their plea by 30 days at their initial appearance.
After Pandurevic entered his plea, prosecutor McCloskey said that he was working on a motion for the joinder of all "Srebrenica indictments", in order to be able to try the eight indictees together. He also expressed hope that "General Zdravko Tolimir will arrive soon". He is charged with the same crimes and is still at large. The prosecutor is convinced that "if Serbia continues to cooperate" Tolimir will soon join the other eight accused.
Judge Antonetti expressed some doubts about "the feasibility of a joint trial of nine accused", asking how "they would all be fitted into one courtroom." Agreeing that this would not be simple and that solutions for the problems that might occur in the course of such a mega-trial were yet to be found, the prosecutor noted that "two trials for the same crimes, with the same witnesses and the same evidence… would be a much worse option."
Further discussion about this topic was postponed until the prosecutor files his motion for the joinder of the indictments.