Home
WHO WAS THE BEST-INFORMED?
The Presidency of the Serbian Republic of BH was the best-informed institution – it was in fact the body that gave information to other segments of the government, former deputy prime minister in the SR BH Government Milan Trbojevic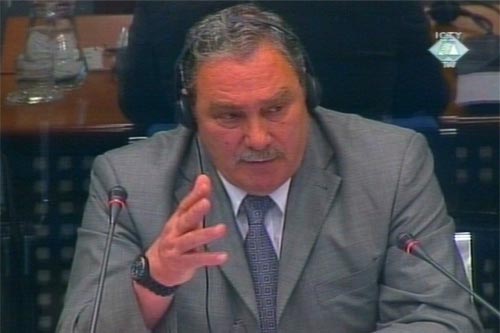 Milan Trbojevic, witness in the Krajisnik trial
The best-informed Bosnian Serb political body was the Presidency, while the Government got the least information, said former member of the Bosnian Serb Government Milan Trbojevic at the trial of former speaker of the Bosnian Serb Assembly and member of the Presidency, Momcilo Krajisnik. The so-called extended Presidency at Pale in 1992 comprised Krajisnik, Karadzic, Plavsic and Koljevic.
"The land was on fire, and we didn't know what the ministers were doing," the witness said. He was the deputy prime minister in the first cabinet of the Serbian Republic of Bosnia and Herzegovina. He spoke about this after he was asked by Krajisnik's defense counsel Nicholas Stewart about which of the bodies in Pale was the best-informed.
The Presidency members were the best-informed, the witness explained, because they were in contact with the representatives of the international community, they went to Belgrade and received reports about the situation in the VRS through the defense minister. "They were the ones who passed on information to the other" segments of the government. Regarding communication with Belgrade, he said that "there were contacts with Milosevic", that "the interior minister of the Serbian Republic of BH went to Belgrade to attend a meeting, and there were contacts in the military".
Trbojevic said that the defense minister Subotic had been passing on more information directly to Karadzic than to the prime minister. When asked by the judge if Subotic had been relaying information to anyone apart from Karadzic, the witness explained that the minister would often say that he had been to "see the boss" – Karadzic. "I don't know how much information the other Presidency members had," he added.
The prosecutor – who is in the middle of his case – is trying to prove that Krajisnik was well-informed about the events on the ground and that he was one of the leaders of the persecution campaign against the non-Serb population in BH.