Home
INDICTMENT AGAINST LJUBISA BEARA AMENDED TO INCLUDE MORE CHARGES
On 5 April, former Security Service Chief in the VRS Main Staff will enter his plea on two new counts in the amended indictment for the genocide in Srebrenica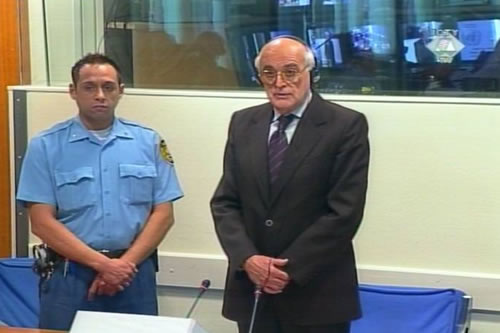 Ljubisa Beara's first appearance at the Tribunal
The prosecution filed a confidential motion to amend the indictment against Ljubisa Beara late last November, two weeks after the accused pleaded not guilty on any of the six counts of the indictment charging him with genocide or complicity in genocide, extermination, murder, persecution on political, racial and religious grounds and forcible transfer of the population.
In a decision made public today in The Hague, Judge Bonomy allowed the prosecution to amend the indictment to include new charges against the former chief of Security Service in the VRS Main Staff. The count charging Beara with genocide remains, but the alternative charge for complicity in genocide is replaced by a new count, with the charge for conspiracy to commit genocide. There is another new count, charging Beara with the forcible transfer of several thousands of Bosniak men and boys who were killed in July 1995 at Srebrenica execution sites. Ljubisa Beara will, as announced today, be invited to enter his plea on the new counts on 5 April 2005.
It is not yet known whether the prosecution will be seeking to amend indictments against the other persons accused for the Srebrenica genocide. Together with Beara, Vinko Pandurevic and Drago Nikolic are in the UN Detention Unit. Ljubisa Borovcanin is expected to surrender in the coming days, while Vujadin Popovic is in hiding in Russia, as some suspect. They will probably be tried together with the three members of the VRS Main Staff, who have also been charged with the crimes in Srebrenica, though not with genocide. Generals Gvero and Miletic are in detention, while General Tolimir is not accessible to the Tribunal.