Home
GVERO "NOT GUILTY", MILETIC "DOES NOT UNDERSTAND" INDICTMENT
Former officers of the VRS Main Staff adopt different approaches at their initial appearance before a Tribunal judge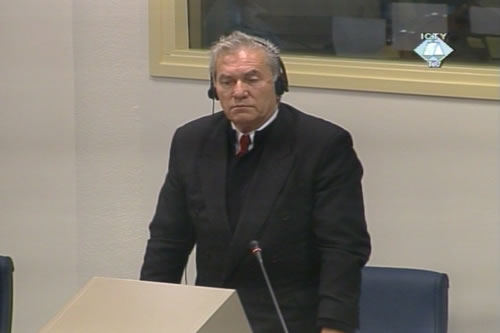 Milan Gvero in the courtroom
At his initial appearance before a Tribunal judge, former VRS assistant commander for morale, legal and religious affairs General Milan Gvero pleaded not guilty on any of the five counts of the indictment, charging him with crimes in Srebrenica and Zepa in 1995. General Radivoje Miletic, former deputy chief of staff who is charged with the same crimes, decided to avail himself of the possibility to enter his plea within 30 days.
Both accused were represented by court-appointed counsel, since the lawyers the accused chose had not been approved by the Registry to take on their defense. Both Miletic and Gvero asked Judge Carmel Agius to intervene to allow the lawyers they chose to represent them. The ICTY Registry, which is in charge of that, will be notified of their demands, as the judge told the accused. The pre-trial judge can intervene only in exceptional circumstances.
The accused generals today waived their right to have the indictment read out to them in its entirety. However, General Miletic informed the judge that he did not understand the indictment. Miletic's defense counsel Peter Morrissey provided additional clarification, noting that the accused had told him that he did "not understand certain legal and factual phrases" in the indictment.
As for General Gvero, he thinks that the indictment contains "a lot of nonsense", but as he explained to the judge, he does "understand it although [he] cannot accept it." As he pleaded not guilty, Gvero commented on almost all of the five counts of the indictment: to his "not guilty" he added, variously, "What would I have to do with any murders," "I can't relate to this," "Incredible fabrications" and "I will prove I have nothing to do with deportations."
In addition to generals Gvero and Miletic, the indictment contains charges against Zdravko Tolimir, former assistant to the commander for security in the Main Staff of the Republika Srpska Army (VRS). All three have been charged on the basis of their individual responsibility for persecutions on political, religious and racial grounds, murders and cruel treatment of the Bosniaks detained in Potocari, Bratunac and Zvornik, destruction of property in Srebrenica and Zepa and the deportation of Bosniaks from Zepa in the summer of 1995. These crimes have been qualified as crimes against humanity and violations of laws and customs of war.
Photos