Home
A COMPLEX SITUATION FOR COMMANDERS
At the trial of the former commanders in the BH Army 3rd Corps, defense military expert Vahid Karavelic testifies about the "exercise of command on higher levels". One should distinguish between omissions that are the result of "indolence or ignorance" from those caused by "objective" difficulties, the witness says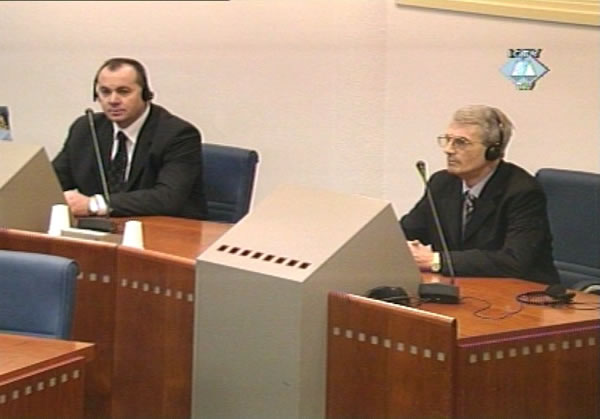 Enver Hadzihasanovic i Amir Kubura in the courtroom
BH Army officers performed their command duties in highly complex and difficult war-time conditions, says Vahid Karavelic, retired Major General of the BH Federation Army, testifying as a defense military expert at the trial of Enver Hadzihasanovic, former commander of the 3rd Corps, and Amir Kubura, former commander of the 7th Muslim Brigade.
He says that when evaluating the performance of a commander, one must take into account the "reality" in Bosnia and Herzegovina in 1992 and 1993 – a "very confused situation in the sphere of politics and defense", particularly at the beginning of the war. Furthermore, "the character of the war had a negative influence over the mission of every commander," he said reminding the court that the Government forces had to fight three enemies.
A number of factors affects the performance of a command mission, Karavelic added: from the professionalism of the subordinate personnel, through the communication capabilities and freedom of movement, support of the civilian population to whether the enemy side is committing crimes.
The witness noted that the negative "influences" did not diminish a commander's responsibility, but they "show how complex and difficult it was to perform the mission." Karavelic, who was first the deputy commander and the commander of the Bh Amry 1st Corps in 1993, says that he would never accept such duty again, considering the circumstances he worked in. In his expert report he listed 34 duties a military commander has. When asked by the lawyer, he admitted that he himself had not managed to comply with all those requirements because of all the "objective" problems. One should distinguish between the omissions are the result of "indolence or ignorance" from those caused by "objective" circumstances, the witness noted.
The examination-in-chief of the defense expert will last several days, and he will be cross-examined next week.