Home
TRIBUNAL RENDERS SECOND JUDGMENT FOR SREBRENICA GENOCIDE
Vidoje Blagojevic was sentenced to 18 years in prison and Dragan Jokic to 9 for the crimes committed in July 1995; as stated in the judgment, these are among the "darkest days in modern European history", committed with a "level of brutality and depravity not previously seen". The Trial Chamber found that the accused "did not play a major role" in the Srebrenica crimes, which were planned and committed by "officers from the VRS Main Staff and Republika Srpska MUP."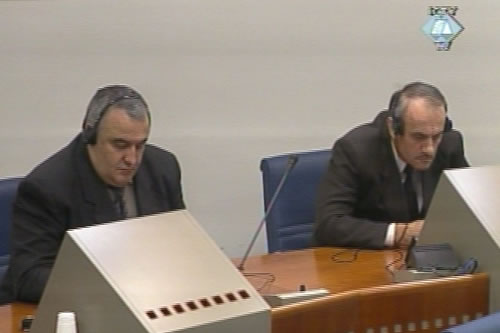 Vidoje Blagojevic and Dragan Jokic in the courtroom
Former commander of the VRS Bratunac Brigade, Vidoje Blagojevic, was sentenced today to 18 years in prison for complicity in the Srebrenica genocide and aiding and abetting murder, persecutions and inhumane acts committed in July 1995. His co-accused Dragan Jokic, former chief engineer of the VRS Zvornik Brigade, was found guilty in the same judgement of aiding and abetting the crime of extermination, murder and persecution: he was sentenced to nine years. They were both convicted on the basis of their individual, rather than command responsibility.
This judgement is the second one rendered by the Tribunal in which the crimes committed after the taking of Srebrenica in July 1995 are qualified as genocide. The first was the judgment in the case of General Radislav Krstic, former commander of the Drina VRS Corps. Stating that in the course of a single week more than 7,000 Bosniak men were killed and at least 30,000 women and children were forcibly transferred from the enclave, the Trial Chamber noted that those crimes were committed with a "level of brutality and depravity not previously seen" and are among the "darkest days in modern European history".
Of the two accused, only Blagojevic was charged with complicity in genocide. Having found him guilty of aiding and abetting genocide, the Chamber explained that Blagojevic, as the commander of Bratunac Brigade, "practical assistance that had a substantial effect on the commission of the killings and serious bodily or mental harm", and that he was aware of the genocidal intent of the masterminds and perpetrators of the crimes: officers from the VRS Main Staff, headed by General Ratko Mladic, and Republika Srpska MUP personnel, whose purpose was to eliminate the Bosniak community from the Srebrenica enclave for good. Separating and executing men is, according to the judges, "a critical piece of evidence in establishing that the Bosnian Serbs who [ordered this] did not want the group to ever reconstitute itself and therefore they intended to physically destroy the group."
Judging by the first reactions, neither of the parties is happy with the judgment of the Trial Chamber presided by the Chinese judge Liu Daqun, and including judges Vassylenko from Ukraine and Argibay from Argentine. The defense is unhappy with the severe legal qualifications of the responsibility of the two accused, while the prosecution considers the severity of the sentence to be out of line with the legal findings of the Chamber. The prosecution sought 25 years for Blagojevic and 15 to 20 years for Jokic.