Home
BLAGOJEVIC CALLS FOR RETRIAL AND REVIEW OF JUDGMENT
Former commander of the VRS Bratunac Brigade claims that during his trial before the Tribunal his 'fundamental human rights were jeopardized'. He is calling for a review of the judgment delivered by the Appeals Chamber sentencing him to fifteen years in prison on charges of aiding and abetting of the genocide in Srebrenica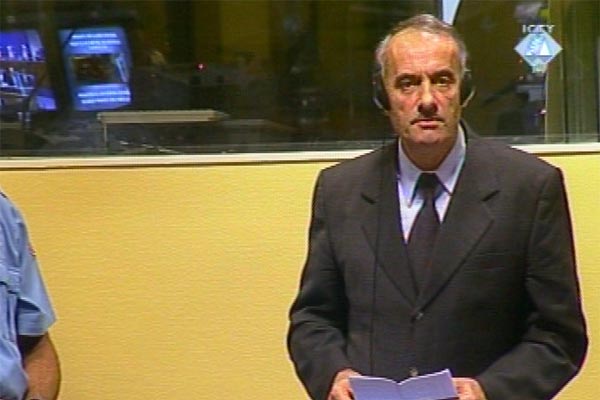 Vidoje Blagojevic in the courtroom
Former VRS officer Vidoje Blagojevic has filed a request for the review of the judgment delivered by the Appeals Chamber on 9 May 2007 convicting him for aiding and abetting of Srebrenica genocide and sentencing him to fifteen years in prison.
Following his arrest and transfer to The Hague in August 2001, Blagojevic pleaded not guilty on all of the counts in the indictment. According to him, during the trial his 'fundamental human rights, primarily his right to defense' were jeopardized. The reason was, as he alleged, the 'defense counsel imposed on him', US attorney Michael Karnavas who worked 'against his interests'. In addition to this, Blagojevic 'didn't trust him'. Blagojevic recalls that during the trial he 'was not given the opportunity to testify in his own defense' which further jeopardized his rights.
Blagojevic has used the same argument in his appeal before the European Court of Human Rights. He expects that this court will confirm 'his right to defense and the right to a fair and impartial trial that were compromised'. Blagojevic and Vladimir Domazet, his defense counsel, expect that such a decision by the European Court should support his request for a re-trial.
In the statement of reasons, Blagojevic refers to the case of Jovica Stanisic and the claims made by his defense that his trial couldn't be fair and impartial because the defense could not 'establish normal rapport' with him because of his illness. Blagojevic notes that any contact with his 'imposed defense counsel ceased two months before the trial', in March 2003. Until the end of the proceedings in September 2004, they didn't reestablish contact and the trial went on without Blagojevic's 'active participation'.
Noting that 'all the requirements for a review of the judgment have been met', Blagojevic calls for a re-trial with 'a defense counsel of his choice, with right to have say in the selection of evidence to be called and in particular his right to give evidence in his own defense, in order to enable the Tribunal to reach a new fair judgment'.