Home
VIDOJE BLAGOJEVIC RELEASED FROM PRISON
Former commander of the VRS Bratunac Brigade is granted early release after serving two thirds of his 15-year sentence for aiding and abetting the genocide in Srebrenica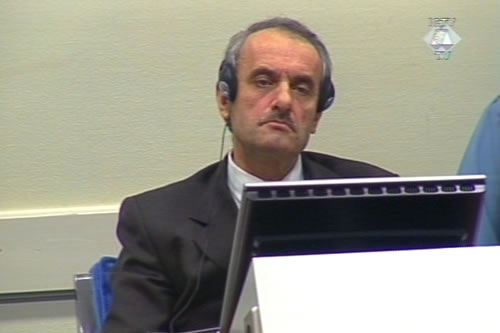 Vidoje Blagojevic in the courtroom
Vidoje Blagojevic, former commander of the VRS Bratunac Brigade, was granted early release on 22 December 2012, it was announced at the first press conference in the new year at the Tribunal. The Tribunal's President Theodor Meron made the decision on 3 February 2012 but it was kept under seal.
In 2007, Blagojevic was convicted of aiding and abetting persecution and forcible evacuation of the people from the Srebrenica enclave as well as of aiding and abetting the murder of Muslim men in Bratunac. Blagojevic was sentenced to 15 years in prison; he served his sentence in Norway. The period from 10 August 2001 when Blagojevic was arrested in Bosnia and Herzegovina and transferred to the Tribunal's Detention Unit was credited against his sentence.
In his decision of 3 February 2012, Judge Meron ordered that Blagojevic be released on 31 December 2012. Then in early December 2012, Judge Meron granted the request of the Norwegian authorities to release Blagojevic on 22 December 2012 because of logistical difficulties that would be caused by facilitating his release on the last day of the year.
In his decision, now made public, the Tribunal's President notes that Blagojevic was convicted of the gravest crimes in Srebrenica. Those crimes left permanent consequences on the lives of the victims' families and survivors known as the 'Srebrenica syndrome'. Although Blagojevic's role was 'limited, the gravity of crimes in the Srebrenica genocide was extremely high'. This was a factor that 'weighs against his early release'.
Considering the 'indicators of rehabilitation' of the convict during the period of imprisonment the President conveyed the findings of the Norwegian authorities. According to those findings, Blagojevic 'has not caused any breeches of rules and regulations during his detention'. In Judge Meron's view, Blagojevic's 'good behavior' demonstrated a 'degree of rehabilitation' that weighed in favor of his early release.
Finally in his decision of 3 February 2012 the judge concluded that Blagojevic had been in prison almost six months longer than two-thirds of his sentence. In line with the Tribunal's practice, after the accused have served two-thirds of a sentence they are eligible and not entitled to early release. The practice to date has been to release most of the Tribunal's convicts from prison after that period.