Home
PROSECUTION RECOMMENDS SENTENCES FOR BLAGOJEVIC AND JOKIC
Prosecutors seek 32 years in prison for Vidoje Blagojevic and between 15 and 20 for Dragan Jokic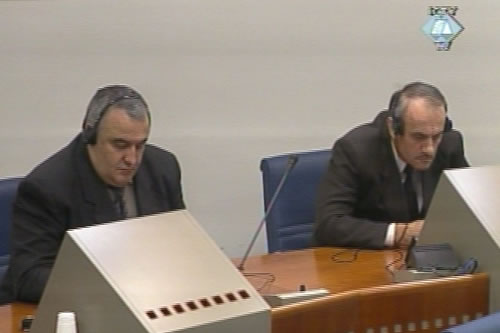 Vidoje Blagojevic and Dragan Jokic in the courtroom
Prosecutor Peter McCloskey ended his closing arguments at the trial of two former VRS officers charged with the Srebrenica massacre in the summer of 1995 by recommending that Vidoje Blagojevic, former commander of the VRS Bratunac Brigade, be given a sentence of 32 years in prison.
"For crimes of this magnitude and for an accused who was the third highest ranking officer in the operation, the only appropriate sentence would be the severest one – life imprisonment," McCloskey said. However, he believes "it would not be fair" for Blagojevic to get a more severe penalty than Radislav Krstic, Drina Corps commander, whose sentence, 46 years in prison, was commuted by the Appeals Chamber to 35 years.
As for Dragan Jokic, chief engineer in the VRS Zvornik Brigade during the Srebrenica operation, the prosecution recommended a sentence of between 15 and 20 years in prison. "Although the accused tried to present his participation in the operation as a proper performance of the job of a staff officer, in the context of the genocide, it cannot be considered a job properly done," McCloskey said.
The defense will present its closing arguments over the next two days. Michael Karnavas, Vidoje Blagojevic's defense counsel, will go first; he has four hours to present his arguments. At the end of today's hearing, Blagojevic noted yet again, "for the record," his "deep suspicion and mistrust" towards what his "imposed defense," as he calls it, will present tomorrow.