Home
WHAT DOES GUNSHOT RESIDUE PROVE
Forensic examination of the bodies of the persons killed in Dusina, carried out in the Zenica Hospital, did not indicate that any crime had been committed against the captives, Enver Hadzihasanovic's defense argues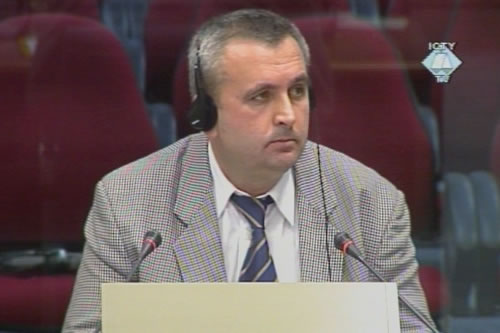 Ermin Huseinagic, defense witness for Hadzihasanovic
The bodies of persons killed in Dusina in January 1993 were transferred to Zenica and forensic examinations carried out in the Zenica Hospital indicated that the wounds could have been sustained in combat, General Enver Hadzihasanovic's defense argues. As the then commander of the BH Army 3rd Corps headquartered in Zenica, he is held responsible for his failure to prevent and punish the killing of six HVO members and a civilian who had surrendered to the BH Army on 26 January 1993. His defense is arguing that he did not have any knowledge of the crime and can therefore not be held criminally responsible.
"I did not find any evidence that would indicate that the victims had been tortured before death," witness Ermin Huseinagic testified today. He had examined the bodies as an expert for physical evidence. He added, however, that the experts in legal medicine might be better judges of that. Huseinagic checked, on the order of the military court, whether the victims had gunshot residue on their hands which would indicate that they had discharged firearms. Gunshot residue was found on all bodies but one, but that death could have been explained as "civilian death in combat", the witness stated.
In the course of the prosecution case, former HVO members from the area of Dusina and Brdo testified that BH Army members they had surrendered to on 26 January 1993, had interrogated and beaten them and then shot to death five HVO members and a Serb civilian. In a separate incident on that same day, the HVO commander for the Dusina area was also killed after he had surrendered himself.
Hadzihasanovic's defense is trying to prove, however, that the BH Army commanders were not receiving any information from the field about any killing of prisoners in the course of the operations in the Dusina area and that the examinations in the Zenica Hospital did not lead to that conclusion.
The prosecutor however noted that finding gunshot residue on the hands of the dead victims could not lead to a definitive conclusion about the manner of death. "Can you claim with any certainty that those persons, hours after they used firearms, were not captured and executed?" the prosecutor asked. The witness then said that "it was not up to him to judge that." The witness also stated that his team had not received the order to go to Dusina in order to reconstruct the events at the scene.