Home
THE ARMY DID TRY TO RESIST THE MUJAHEDIN
Enver Hadzihasanovic is trying to prove that the BH Army personnel did not just stand by and let the mujahedin take away the civilians from the village of Maline for whose safety the BH Army was responsible. On the basis of command responsibility, Hadzihasanovic is charged with the execution of 25 people from Maline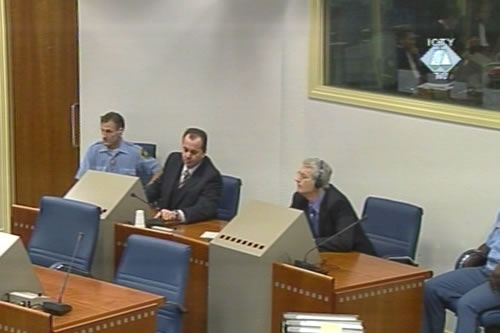 Amir Kubura in the courtroom
"I still don't know if I had done everything I could" to save the people that the mujahedin executed near Maline, former BH Army soldier said. He was escorting a column of Croats that was intercepted by the mujahedin on 6 June 1993.
After the BH Army entered Maline, some ten military policemen from the 1st Battalion, 306th Brigade, were dispatched from the village of Mehuric to Maline "to help the civilians, the evacuation and to guard the property," a protected witness who was the leader of this group of military police testified today. He decided on his own initiative to take a group of abut 200 Croat civilians and HVO soldiers to Mehuric because he was afraid, as he said, that "the mujahedin might get into the village", in which case he, "with ten men, would have been unable to protect them."
As the column escorted by five military police officers was passing in the vicinity of the mujahedin camp, "two men wearing masks jumped out" in front of the witness "and demanded to take over the column." "I said that they could not," the witness said. Three other armed mujahedin stood silent behind the first two who spoke Bosnian. "When harsh words were exchanged, they cocked their weapons, I cocked mine… More men with hoods jumped out of the forest. One of them put his automatic rifle into my mouth and the others had their weapons trained on us," the witness said, concluding that he "did not have a chance to resist and he put the weapon down and the mujahedin took some men out of the column." As alleged in the indictment, some 30 Croat civilians were taken away and 25 were killed.
Enver Hadzihasanovic's defense, who called this witness, is arguing that the BH Army personnel did not just stand by and let the mujahedin take away the Maline civilians for whose safety the BH Army was responsible at that point.
The witness notes that there was no one to report to in the Mehuric HQ about the evets because the entire command staff was away, engaged in various tasks. Only two days later was he able to submit a full report to his commanding officer. In the meantime, a wounded HVO soldier from Maline had been brought to Mehuric and he told the witness what had happened with the Croats that had been taken away, i.e., that he had survived the execution.
When the prosecutor wanted to know whether the 306th brigade had investigated the incident following his report, the witness replied that he did not know that.