Home
TRIAL OF FORMER KLA MEMBERS BEGINS
In its opening statement, the prosecution says the crimes in the Lapusnik camp were committed in the context of an armed conflict and were part of a systematic and wide-spread attack on the civilian population. According to the prosecutor, Serbs were targeted "simply because they were Serbs," while Albanians were attacked because they were suspected of "collaborating with Serbs."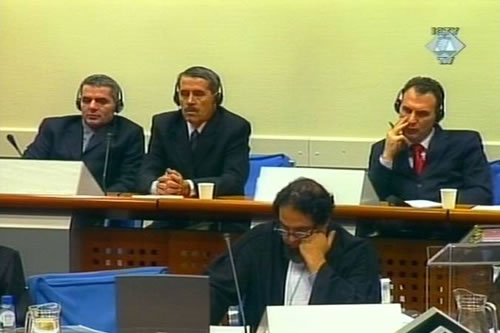 Isak Musliu, Hajradin Bala and Fatmir Limaj in the courtroom
The prosecution will try to prove that between May and July 1998, "Serb and Albanian civilians were unlawfully detained, brutally beaten, tortured and – in more than 20 cases – killed, and that these three accused are responsible for those crimes," Prosecutor Andre Cayley announced at the beginning of the trial.
Three former commanders and members of the Kosovo Liberation Army (KLA) are in the dock: Fatmir Limaj, Isak Musliu and Haradin Bala. The first accused, Limaj, whose nom de guerre is Celiku, was a regional KLA commander for the Drenica area, south of the strategically important main road linking Pristina and Pec. Musliu, whose nom de guerre was Cerkez, was a local commander in Lapusnik where the KLA had both its base and the camp. The third accused, Bala, whose nom de guerre was Sala, was a guard in the Lapusnik camp.
In pre-trial briefs filed by their lawyers, Limaj admits to having been in Lapusnik some 20 times in the period covered by the indictment, and Musliu confirms that he was stationed there. Both claim, however, that there was no camp there, no detainees, no beatings or killings. The defense of the third accused, Haradin Bala, indicated that he intended to present a defense of partial alibi: he claims to have been in Lapusnik only until the end of May 1998, but also says there was no camp there and no detainees.
In his opening statement, the prosecutor indicated that he would be proving the existence of the camp and the crimes committed there through the testimony of victims and survivors – Serbs and Albanians; through forensic evidence obtained by UNMIK investigators who launched an investigation in 2001; and by OTP investigators who took over in 2002 and continued the investigation. Among the witnesses announced by Cayley, there will be former KLA members and representatives of the international community who were in Kosovo at the time relevant to the indictment.
Prosecutors argue that the crimes in the Lapusnik camp were committed in the context of an armed conflict between Serbian security forces and the KLA and were part of a systematic and wide-spread attack on the civilian population. The prosecution claims that the Serbs were targeted "simply because they were Serbs," while Albanians were attacked because they were suspected of "collaborating with Serbs" or of being "traitors."
After the prosecutor, the defense counsel for the three accused will present their opening statements. Fatmir Limaj asked for 20 minutes to make a statement before the chamber at the beginning of the trial.
Photos