Home
TRIAL OF FORMER OVK MEMBERS TO START 15 NOVEMBER
A status conference today - the first to have been held before Judge Parker's Chamber - brings to an end the preparations for the trial of Fatmir Limaj, Isak Musliu and Haradin Bala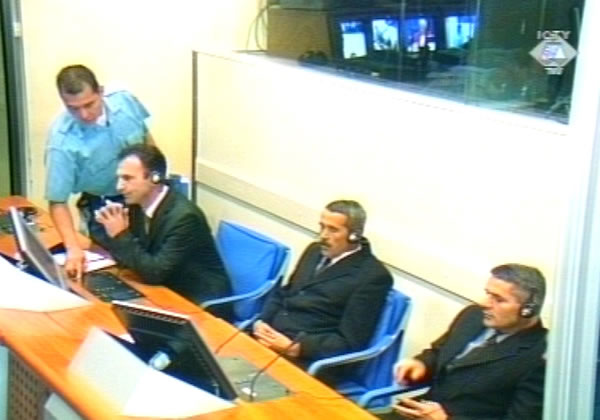 "Kosovo three" in the courtroom
The trial of the former members of the Kosovo Liberation Army, charged with crimes in the Lapusnik camp, will begin on 15 November, Judge Kevin Parker confirmed today. He is the presiding judge of the Trial Chamber hearing the case.
A status conference today - the first to have been held before Judge Parker's Chamber - brings to an end the preparations for the trial of Fatmir Limaj, Isak Musliu and Haradin Bala.
The indictment alleges that Serbs and Albanians from the areas of Stimlje, Glogovac and Lipljani were held in detention in the summer of 1998 in the Lapusnik camp, where people were killed, tortured, and beaten. A group of detainees was killed after the closure of the camp on the Berisa Mountain. Twenty-two victims have been recorded: 10 Serbs and 12 Kosovo Albanians. Bala and Musliu have been accused of personally taking part in the commission of the crimes, while Limaj is charged as the camp commander.
At the last status conference in June, prosecutor Andrew Caley noted that from the beginning of this case, there has been evidence of attempts to influence prosecution witnesses. Defense lawyers stated today they believed such allegations to be groundless and asked to be told clearly who had tried to influence witnesses. The prosecutor answered this question in closed session.
Defense counsel for the accused stated several objections to their clients' status in detention. Their communications from the detention unit have been limited to their lawyers and their country's diplomatic representatives. The prosecutor explained this was done to protect prosecution witnesses and claimed that such measures are introduced when the accused "abuse their privileges." No other details about this issue were presented. The accused raised objections to those measures and the issue is now before the Tribunal President.
Defense counsel also complained that Limaj, Bala and Musliu, unlike other detainees, were handcuffed and blindfolded during transport from the detention unit to the Tribunal. Judge Parker responded this was a security measure decided on by Dutch police and instructed the defense to speak to Dutch authorities.