Home
BEARA: "NOT GUILTY"
A day after the RS government asked the families of Srebrenica victims for forgiveness, Ljubisa Beara – accused of masterminding the massacre in July 1995 – pleads not guilty to all the offences he is charged with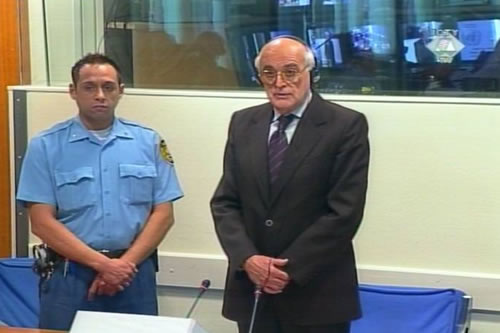 Ljubisa Beara's first appearance at the Tribunal
Ljubisa Beara, former security chief of the VRS Main Staff, pleaded not guilty today to all six counts in the indictment relating to crimes committed in Srebrenica in July 1995. Beara is charged with genocide or complicity in genocide, extermination, murder, persecutions on political, racial and religious grounds, and the forcible transfer of the population.
This was Beara's third appearance before a judge following his arrest in Serbia on 10 October and his surrender to the Tribunal. At his two previous appearances--on 12 October and 9 November--he availed himself of his right to postpone entering his plea until the arrival of his defense counsel, American lawyer (of Serb origin) John Ostojich. He finally appeared today.
When Judge Bonomy asked if his client understood the indictment, Ostojich replied, "partially," going on to explain that "with all due respect, he thinks that no one can understand such allegations fully." He added that Beara did understand "the scope and the scale" of the allegations, and that he was able and ready to enter his plea.
The indictment charges Ljubisa Beara – retired VRS colonel – with participation in a joint criminal enterprise, the alleged common purpose of which was to destroy all men of military age, thus preventing the survival of the Muslim community in the Srebrenica area. According to the testimony heard so far at other Srebrenica trials, Colonel Beara was the mastermind of the operation in which more than 7,000 Bosniak men were captured and executed between 12 and 20 July 1995. The Drina Corps Commander, General Radislav Krstic; Karadzic's civilian commissioner for Srebrenica Miroslav Deronjic; former Bratunac Brigade security officer Momir Nikolic; Zvornik Brigade chief of staff Dragan Nikolic; and others all testified that he played a leading role in that operation.
Most of them will testify again at the Tribunal's third Srebrenica trial. In addition to Beara, there are other accused who remain at large, despite the fact that they are also charged with participating in the same joint criminal enterprise: Vinko Pandurevic, Vujadin Popovic, Drago Nikolic, Ljubisa Borovcanin, and former RS military and police officers.