Home
BEARA URGES HIS WARTIME COMRADES TO SURRENDER TO THE TRIBUNAL
After the entering of his plea was postponed by three weeks at his request, Ljubisa Beara addresses his wartime comrades who are still at large from the Tribunal courtroom.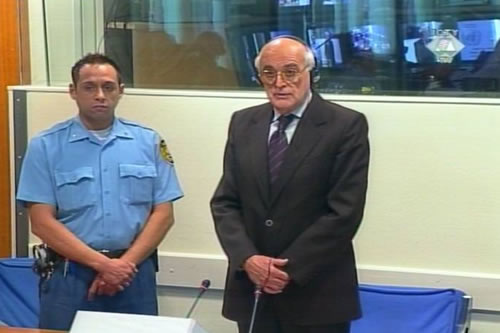 Ljubisa Beara's first appearance at the Tribunal
Ljubomir Beara, former security chief of the VRS Main Staff, did not enter a plea at his initial appearance before the Tribunal on counts charging him with genocide and other war crimes committed in Srebrenica in July 1995. Although his temporary defense counsel Guy Smith estimated that Beara might be ready to enter a plea within two weeks, as soon as he appoints his own counsel, Judge Iain Bonomy scheduled a new hearing for 9 November 2004 in accordance with the Tribunal's rules.
Ljubisa Beara took the opportunity at his initial appearance to, he said, "send a message to his wartime comrades who have been indicted and are at large to surrender voluntarily and thus remove this stone that is now hanging around the neck of our country and all the other people around us."