Home
PROSECUTION SUPPORTS CERMAK AND MARKAC APPEAL
The prosecution "is not aware of any circumstances which justify detaining" Croatian Generals Ivan Cermak and Mladen Markac pending trial, while the six accused in the Prlic et al. case have been provisionally released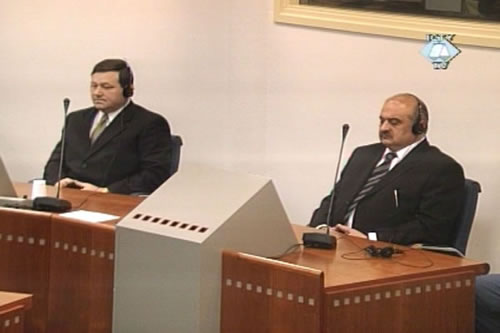 Ivan Cermak i Mladen Markac in the courtroom
"The Prosecutor is not aware of any circumstances which justify detaining the Cermak - Markac accused while releasing the Prlic accused." This was prosecutor Kenneth Scott's conclusion in the brief filed with the Appeals Chamber, which is currently seized of the matter of Cermak and Markac's provisional release.
The Trial Chamber hearing the case against Jadranko Prlic and other former Herceg Bosna leaders granted their motions for provisional release in August, deciding to accept the guarantees offered by the Croatian government. However, a different chamber in charge of the Cermak and Markac case, which is now in the pre-trial stage, has twice dismissed their motions in the past few months, refusing to accept the guarantees of the Croatian government.
Prosecutors opposed the provisional release in the Prlic et al. case, but judges dismissed their arguments. In the Cermak and Markac case, the prosecutor was opposed at the beginning but later supported their provisional release pending trial. The shift in the prosecution's attitude did not sway the judges: in their view, the guarantees offered by Zagreb were simply not reliable.
Last month, the Appeals Chamber allowed the appeal filed by Cermak and Markac, considering that "it may be possible that the Trial Chamber has erred in its evaluation of the guarantees offered by the Republic of Croatia."