Home
DEFENSE: CERMAK AND MARKAC HELD HOSTAGE BY TRIBUNAL
The issue of the provisional release of Croatian generals Ivan Cermak and Mladen Markac is before a bench of three judges of the Appeals Chamber. Defense seeks leave to file an appeal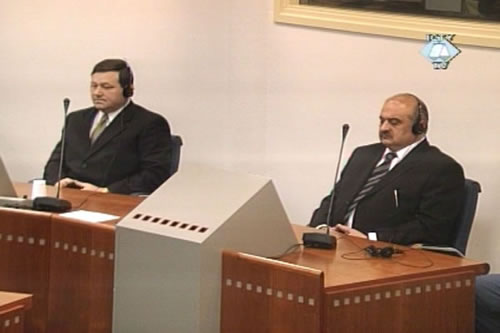 Ivan Cermak i Mladen Markac in the courtroom
Defense counsel for Ivan Cermak and Mladen Markac filed an application this week seeking leave to appeal the Trial Chamber's decision refusing to grant provisional release to the two accused pending trial.
The Trial Chamber refused the motions for the provisional release of the Croatian generals twice, in April and September. They are charged with crimes against Serb civilians committed in the course of, and after, Operation Storm.
Their defense counsel, however, thinks the Trial Chamber erroneously concluded that the accused might pose a threat to the victims and witnesses and that they may refuse to return to the Detention Unit. The defense further contends that the Tribunal has no reason not to trust the guarantees offered by the Croatian Government. "The fact that Ante Gotovina (charged with the same crimes) has not been arrested yet does not mean that the cooperation of Croatia is not satisfactory," the defense brief notes, adding that Cermak and Markac have become "hostages to the Tribunal"; this has been done "in order to ensure Gotovina's surrender through their status."
The prosecution opposed the first motion but not the second, but the Trial Chamber viewed its attitude as "ambiguous." In the defense's view, the prosecution has clearly stated that "it is not opposed" to their provisional release once the accused have fully cooperated with the prosecution in the Detention Unit.
Finally, the defense quoted other cases before the Tribunal where circumstances were similar, yet the accused were released pending trial: the Prlic et al. case, the Rasim Ademi case and the Enver Hadzihasanovic case. In the Prlic et al. case, the accused were granted provisional release despite the opposition of prosecutors. Cermak's and Markac's defense note "there is a clear and crucial inconsistency between the decisions rendered in these two cases."
On the basis of these arguments, a bench of three judges of the Appeals Chamber will decide whether to allow an appeal; if yes, the appeal will be heard by the full Appeals Chamber.