Home
INDICTMENT FOR OPERATION "STORM": NEW FORMAT, OLD FACTS
In an amended indictment in the Cermak-Markac case, prosecutor introduces clarifications ordered by the Trial Chamber at the request of the defense – among other things, about "joint criminal enterprise"responsibility – while stressing that these are not "substantial" changes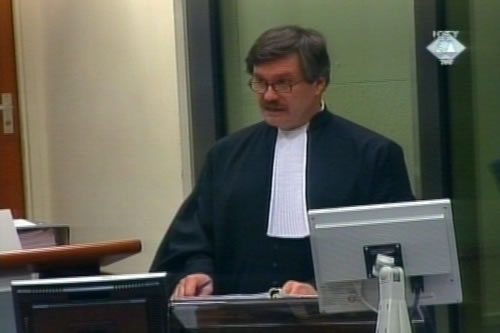 Kenneth Scott
The Office of the Prosecutor has proposed a different format of the indictment against Ivana Cermak and Mladen Markac, but the facts of the indictiment remain the same, Prosecutor Kenneth Scott said in a motion for leave to amend the indictment. "The amended indictment charges the same case, concerning Operation Storm in the Krajina region of Croatia…and concerning the same accused" – Cermak, as the Commander of the Knin Garrison of the Croatian Army, and Markac, as the the Commander of the Special Police of the Croatian MUP (Ministry of the Interior), who have been charged with participating in a "joint criminal enterprise, the common purpose of which was the forcible and permanent removal of the Serb population from the Krajina region".
In March this year, the Trial Chamber ordered the prosecutors to make various changes to the indictment after the defense counsels appealed its form and sought clarification of certain matters cited in it. In accordance with the order of the judges, prosecutors among other things, identified the forces under the effective control of the accused in more detail and identified the conduct by which the accused are alleged to have had the means of knowledge of the crimes. Also, they explained at a greater length what they consider to be a basis for "joint criminal enterprise" responsibility and "presented a more detailed identification of the alleged participants in the joint criminal enterprise". Their names are not mentioned in the motion but in the amended indictment.
Several amendments have been entered at the initiative of the prosecutors, they have not been ordered by the Chambers so Prosecutor Scott is seeking the confirmation of the judges for the said amendments. They refer to the timeframe of the indictment, whose beginning has been moved backward from 4 August 1995 to July that same year. Certain geographical corrections have also been made since, in the initial indictment, the prosecutor named the municipalities that existed in 1991. Two new counts have been added to the indictment, but the killings and cruel treatment mentioned in them were part of the initial indictment under different counts. Finally, two incidents of murder have been deleted and two new ones added to the new indictment.
The prosecutor believes that "the defence is not unfairly prejudiced by any of these amendments" ...particularly in view of the fact that there is no trial date set in the near future".
Although the prosecutor announced earlier that he was considering a joinder of the indictment against Cermak and Markac with that against Ante Gotovina, he has given up on it for now. "The Prosecution will instead address these matters when the accused Gotovina comes before the Tribunal".