Home
PREPARATIONS FOR THE CERMAK AND MARKAC TRIAL UNDERWAY
The prosecution is in the process of disclosing its voluminous evidence to the defense. Mladen Markac's defense warns of the accused's ill health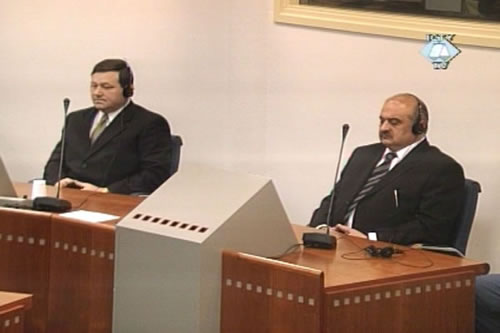 Ivan Cermak i Mladen Markac in the courtroom
As Croatian generals Ivan Cermak and Mladen Markac await the Appeals Chamber's decision on their application to file an appeal against a different decision dismissing their motion for provisional release, the usual preparations for trial are underway. They were discussed today at the regular status conference.
The prosecution is in the process of disclosing its evidence to the defense teams. The Trial Chamber is currently considering the motion on defects in the form of the indictment and will render its decision soon, Judge Kevin Parker announced. He said if preparations for trial continue smoothly, the trial could begin in the first part of next year.
Regarding the health of the accused, Markac's defense counsel Miroslav Separovic informed the Chamber that his client had recently undergone surgery for heart problems and that he was not feeling well. The defense suggested that in addition to Dutch doctors, doctors from Croatia who have treated Markac before examine him.
Since their surrender in April 2004, Cermak and Markac – charged as the former commander of the Knin Military District and the special police respectively – have filed two motions for provisional release. The Chamber has dismissed both. The defense then applied to the Appeals Chamber to be granted leave to file an appeal to those decisions. The decision on this issue is expected in the coming weeks.