Home
SLOW GOING
Pre-trial judge urged the parties to speed up the preparations for the trial of Ivan Cermak and Mladen Markac. The Trial Chamber will "soon" render its decision on the prosecutor's motion to amend the Operation Storm indictment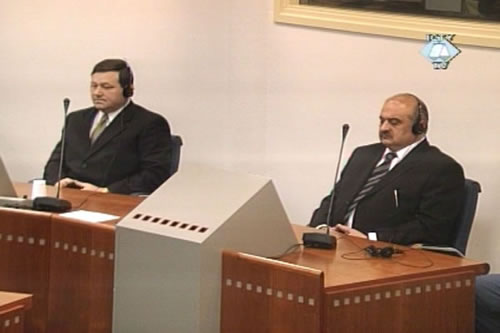 Ivan Cermak i Mladen Markac in the courtroom
The judges will "soon" render their decision on the proposed amendments to the indictment against Ivan Cermak and Mladen Markac, Judge Kevin Parker announced today at a regular status conference in this case. The two retired HV generals have been charged with the crimes committed during and after Operation Storm.
The prosecution sought leave last month to amend the "format" of the indictment in a way which, in their view, would not change the factual basis of the charges. The defense has, however, strenuously objected to the prosecutor's motion, claiming that the changes are "substantial."
In an effort to determine how the preparations for the trial were proceeding, Judge Kevin Parker questioned prosecutor Ken Scott about the disclosure procedure and any agreements on undisputed facts. He concluded that not much had been done since the previous status conference. "The entire case is drifting," the judge warned the prosecutor, urging the parties to achieve "substantial progress" in pre-trial preparations by the next status conference.
The accused Cermak and Markac have been provisionally released pending trial and did not attend the conference today.