Home
KRAVICA: "EVERYTHING THAT COULD BURN WAS BURNED"
Naser Oric trial hears first testimony about the attack on the village of Kravica on 7 January 1993.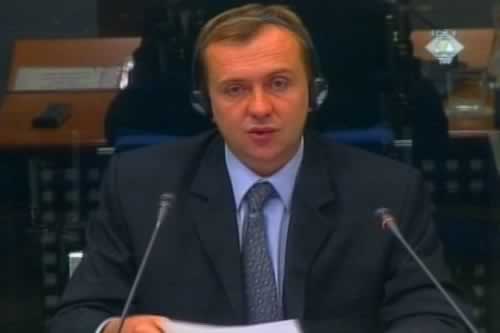 Slavisa Eric, witness in the Oric case
After BH Army forces re-captured the village of Glogova near Bratunac in December 1992 (about 2,000 Bosniaks were expelled from the village in May that same year), the nearby village of Kravica found itself encircled. To the West, Kravica was surrounded by Muslim villages and hamlets; the route to Bratunac--which went through Glogova--was cut off.
According to the prosecutor, those developments preceded the attack on Kravica in January 1993. The BH Army forces that took part in the attack were commanded by Naser Oric; he is charged with the destruction of villages and the plunder of property from burned Serb houses.
Today's witness at Naser Oric's trial was a male nurse from Kravica--Slavisa Eric. During the war, he worked in the village's outpatient unit. Answering questions put to him by the prosecutor, he said the attacking forces "burned everything that could burn in the village" on 7 January. Eric claimed that during the attack, no distinction was made between military targets and civilian facilities. He testified there were no "military targets" in the village at all, with the exception of about 350 to 400 fighters--members of the "village guard"--reinforced by about 40 volunteers from Bratunac and Bijeljina.
During cross-examination, Eric confirmed that the "village guard" was transformed in November 1992 into the 3rd (Kravica) Battalion of the Bratunac Brigade and that it had "quite a few weapons." But the witness did not agree with the defense's claim that there was continuous fighting in the area from mid-December 1992--when the BH Army took Glogova--until 7 January 1993, when Kravica was attacked. Oric's defense counsel, Sarajevo attorney Vasvija Vidovic, showed the witness a document from the Bratunac Brigade, dated 4 January 1993, stating there were "200 armed Turks still" in the Glogovo area and that Serb forces were "engaging in attack operations" targeting several villages, including Kravica. The witness claimed that combat operations were conducted "from the direction of Bratunac, not from the direction of Kravica."
As Oric is charged with the destruction and plunder of the village and not with the casualties resulting from the 7 January attack, the defense put it to the witness that the destroyed and burned houses could in fact have resulted from the 15 March 1993 counter-attack in which Serb forces re-captured Kravica. But the witness stated categorically that in March, the fighting was confined to the surrounding hills and the access routes to the village, not the village itself. He concluded that the destruction and burning could not have been caused by that attack.