Home
HEARING ON THE APPEAL AGAINST THE DECISION TO ASSIGN MILOSEVIC COUNSEL TO BE HELD TOMORROW
ICTY President defines time limits for tomorrow's hearing on the appeal filed by Steven Kay against the decision assigning counsel to the accused on the grounds that his health does not allow him to continue defending himself.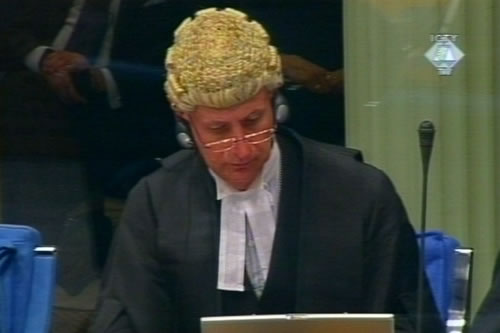 Steven Kay
Tomorrow the Appeals Chamber will test the Trial Chamber's decision of 2 September 2004 assigning defense counsel to Slobodan Milosevic. ICTY President Theodor Meron, who will preside over the Appeals Chamber in this case, signed an order defining the time limits for tomorrow's hearing.
The appellant will speak first: assigned defense counsel Steven Kay, who will have 40 minutes to argue the appeal he filed on 29 September. Kay wants the Appeals Chamber to quash the decision assigning counsel to the accused and to allow Milosevic to continue defending himself or, alternatively, to replace assigned counsel with stand-by counsel, who will assist the accused in the preparation of his defense.
After Kay, the accused Slobodan Milosevic will be given the same amount of time to make his case. He does not accept the appealed decision, refuses to cooperate with assigned counsel, and refuses to take the Chamber's offers to participate in the examination of witnesses, claiming he has been denied his right to defend himself and demanding that this right be restored.
The prosecutor will then have 50 minutes to respond to the arguments presented by both the defense and the accused. In its written response to the appeal, the prosecution asked that the Trial Chamber's decision be confirmed and that new grounds be added. In the prosecutor's opinion, Milosevic's inappropriate courtroom conduct and his manipulation of the court schedule are in themselves sufficient grounds for the assignment of counsel.
The assigned counsel and the accused will get another 15 minutes before the end of the hearing to respond to the prosecutor's arguments.
In addition to Presiding Judge Theodor Meron, the Appeals Chamber will consist of judges Fausto Pocar, Mehmet Guney, Ines Monica Weinberg de Roca, and Florence Mumba.