Home
THE MILOSEVIC CASE: APPEALS CHAMBER TO RENDER DECISION MONDAY
After the Appeals Chamber rules on who will conduct Milosevic's defense as his trial proceeds, the Trial Chamber will decide on the assigned counsel's request to be withdrawn from the case.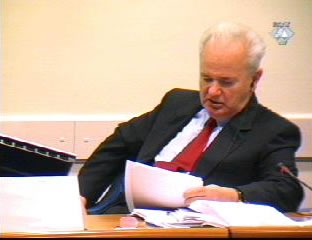 Slobodan Miloševic during the cross examination
The decision of the Appeals Chamber in the Slobodan Milosevic case will be handed down Monday, 1 November, the Tribunal announced today. The Chamber will rule on the appeal filed by Steven Kay against the Trial Chamber's decision assigning defense counsel to the accused, who is not able to continue representing himself for health reasons.
At the appellate hearing on 21 October, Milosevic demanded that his "right to defend himself be restored," noting that he "was not asking anything more than that," but he would not accept "anything less." Assigned counsel Steven Kay supported his demand, claiming he was unable to perform his job properly. Prosecutor Geoffrey Nice qualified Milosevic's stand as "threat and blackmail," seeking a reaffirmation of the Trial Chamber's decision assigning counsel as well as the addition of new grounds, primarily the "improper conduct" of the accused in court.
In the meantime, there have been new developments with Slobodan Milosevic's assigned counsel. Not waiting for the decision on the appeal they themselves filed, English lawyers Steven Kay and Gillian Higgins filed a request last week for their withdrawal from the case. They accepted their appointment on 3 September 2004. The Registry referred their request to the Trial Chamber that made the decision to assign counsel.
The Trial Chamber is expected to rule on their request next week; their decision will of course depend on the Appeals Chamber's decision. Whether the Milosevic trial will continue on Tuesday, 9 November as scheduled will of course depend on both decisions.