Home
CERMAK AND MARKAC TO REMAIN IN UN DETENTION
Motions for provisional release filed by Croatian generals denied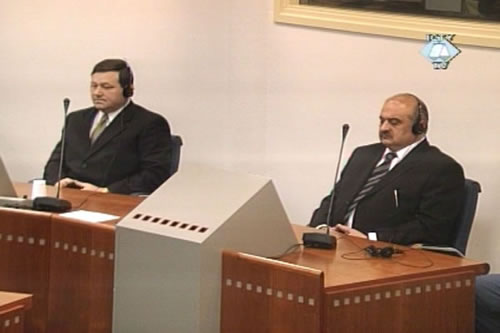 Ivan Cermak i Mladen Markac in the courtroom
Since the Trial Chamber is not satisfied that Generals Ivan Cermak and Mladen Markac will come back to The Hague for trial, it dismissed their motions for provisional release, the Tribunal announced today.
According to the decision, the main reason for the motion's dismissal is that the former HV generals have been charged with extremely serious crimes – committed during and after Operation Storm in the summer of 1995--for which, if found guilty, they would be sentenced to very long terms of imprisonment.
In the opinion of the Trial Chamber, the fact that Cermak and Markac surrendered voluntarily as soon as they learned they were indicted is not reliable proof that they would return to The Hague for trial or that they would not pose a threat to victims and witnesses. The judges accepted the prosecution's arguments that the accused – after receiving the evidence the prosecution has against them – might change their minds and abscond if provisionally released in order to escape having to return to The Hague to face trial.
Although they gave credit to the Croatian authorities for improved cooperation with the Tribunal, the judges think that the "recent experience with the Gotovina case" indicates that there are limits as to how far the authorities can go in meeting the obligations they have undertaken. In the present circumstances, the decision concludes, the Trial Chamber must treat the guarantees offered by Croatian authorities for the accused generals with caution.