Home
CHAMBER DECIDES TO APPOINT COUNSEL FOR MILOSEVIC
Considering that the trial could last "unreasonably long, or even worse, not finish", the judges decided to appoint counsel for Slobodan Milosevic. The accused indicated he would appeal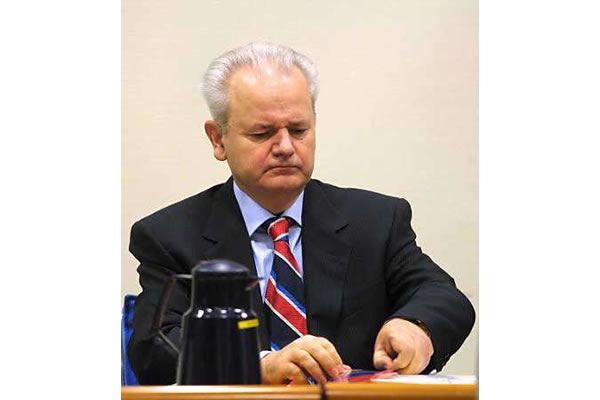 Slobodan Milosevic in the courtroom
Noting that the right of the accused to defend himself "is not absolute and unlimited", the Trial Chamber decided today to appoint counsel for Slobodan Milosevic.
Presenting the statement of reasons for the decision orally, Presiding Judge Robinson recalled that the health of the accused was a "major problem", resulting in more than ten adjournments and loss of 66 working days over the past two years. The beginning of the defense case was postponed five times for the same reason, Robinson recalled. It was originally scheduled to start on 5 June 2004.
Two cardiologists who examined the accused concluded unequivocally that Milosevic was not capable of conducting his own defense and predicted that – if he continued to do so – there would be substantial delays in the trial. The cardiologists warned that the current state of high blood pressure would turn into acute hypertension, which might be life-threatening for the accused. In their reports submitted to the court, the cardiologists also noted that the accused was not complying with the therapy prescribed to him and that he was taking medication that was not prescribed to him.
Taking into consideration all these elements, the Chamber decided that Milosevic be appointed defense counsel; if not, as Judge Robinson stated today, "the trial could last unreasonably long or, even worse, not finish."
Slobodan Milosevic protested strenuously against the decision, claiming that the appointment of counsel was a direct violation of his basic rights. He tried to read a petition before the court, submitted, as he said, by a hundred international lawyers to the President of the Security Council, but Judge Robinson switched off his microphone, instructing him to have recourse to the Appeals Chamber if he wanted to challenge the decision. Milosevic indicated that he would do so, since, as he said, it was a "scandal".
After that, there was a debate about the modalities for the appointment of professional legal counsel for Milosevic.