Home
APPOINTED COUNSEL EXAMINES SLOBODAN MILOSEVIC'S FIRST WITNESS
Milosevic refused contact with his appointed counsel; Chamber dismisses his request to be allowed to examine his witnesses first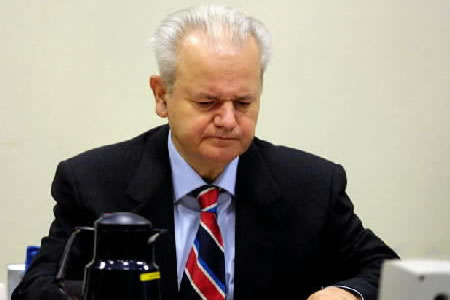 Slobodan Milosevic in the courtroom
Slobodan Milosevic's defense case began with the examination of a retired professor from the Belgrade Law School, Smilja Avramov. The examination-in-chief is conducted by British lawyer Steven Kay, appointed last week as Milosevic's defense counsel, with Gillian Higgins as his co-counsel. Kay and Higgins sat for the first time today at the defense bench in front of Milosevic.
Before the first witness was called, there was a ten-minute debate: defense counsel Kay notified the Chamber of his attempts yesterday and this morning to get in touch with the accused, who refused to talk to him. He had been informed through indirect channels that Milosevic would like him to raise the issue of how the trial is to proceed at the beginning of the hearing, and to ask that the accused be allowed to question today's witness (and probably all the other witnesses) first.
The Chamber, however, refused to consider the possibility. The main reason why defense counsel had been appointed to the accused, Presiding Judge Robinson reminded him, was that according to medical reports he was unable to conduct his own defense. Allowing him to conduct the examination-in-chief of the witnesses would run counter to the very reason why defense counsel had been appointed in the first place. The accused would, Judge Robinson added, be able to ask additional questions "when appropriate" and the Chamber would rule on a case to case basis.
Before calling his first witness, Slobodan Milosevic tried to re-open the issue of the appointment of defense counsel, but Judge Robinson did not allow him to do so, saying that he was "hearing the same refrain again." Since Milosevic continued to "insist that his right to defense be restored to him", saying that "defense by imposed defense counsel was an ordinary legal fiction", Judge Robinson switched off his microphone instructing him to address the Appeals Chamber. Milosevic has already indicated he will do so.
Judge Robinson then ordered Kay to call Smilja Avramov, Milosevic's first defense witness.