Home
MILOSEVIC TO START HIS CASE ON 7 SEPTEMBER
After the opening statement of the accused, scheduled to start on 31 August, there will be a hearing on procedural matters to decide whether Slobodan Milosevic's health problems require that he be assigned legal counsel, to assist him with the presentation of his case, or in exceptional circumstances, to take over the conduct of his defense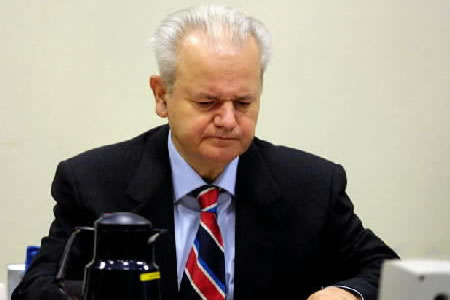 Slobodan Milosevic in the courtroom
The trial of Slobodan Milosevic is to continue on Tuesday, 31 August, and the presentation of the defense evidence is set to start a week later, on 7 September 2004, it has been announced today at the Tribunal.
The trial will, in accordance with the order issued by the Trial Chamber today, continue with the opening statement of the accused, which, in accordance with a previous ruling may last a maximum of four hours, i.e., one working day. After that, on Wednesday and possibly on Thursday, there will be a hearing on procedural matters where the sides will once again present their arguments in favor and in opposition of the assignment of legal counsel for Milosevic, in light of the findings contained in confidential reports filed within the last two months. Three such reports are listed in today's order: two were submitted by cardiologists - Professor Tavernier and Dr. van Dijkman - and one by a toxicologist, Dr. Touw.
Having announced on 5 July a "radical review" of future conduct of the trial, the judges stated that the Chamber would, if it decided on the basis of the medical reports that continued self-representation could have a negative effect on the fairness and expeditiousness of the trial, launch the procedure for the assignment of legal counsel "to assist the accused in the preparation and presentation of his case, or in exceptional circumstances, take over the conduct of his defense."
The prosecution has in the meantime given strong support to the idea that counsel be assigned to Slobodan Milosevic, while the amici curiae have opposed it, on the grounds that the Chamber would have to first rule on the "competency of the accused to stand trial", i.e., on whether Milosevic - due to his health problems - is fit to stand trial at all.
At the end of the procedural hearing, the judges will, as indicated in today's decision, issue an order as to the way in which the trial is to proceed - with or without legal counsel for Slobodan Milosevic.