Home
CASES AGAINST MILOSEVIC TO BE SEVERED AGAIN?
The Trial Chamber is considering the possibility of severing the case against Slobodan Milosevic, which could then be tried separately for one or two indictments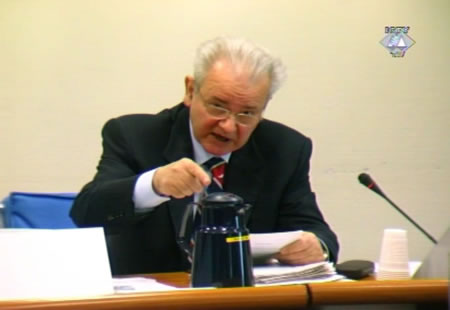 Slobodan Milosevic in the courtroom
The Trial Chamber hearing the Slobodan Milosevic case has opened the possibility of continuing his trial by separating the indictments against the former president of Serbia and FR Yugoslavia and completing one or two cases at a time.
In the most recent order about the future conduct of the trial, made public today at the Tribunal, the accused and the amici curiae are invited to submit written motions in which they will present their views on a "severance of one or more indictments". Their opinion is also sought on the order in which the indictments are to be dealt with, if the Trial Chamber decides to sever the case. Milosevic has been charged with crimes against humanity in Kosovo, for crimes against humanity in Croatia and genocide in Bosnia and Herzegovina.
In an effort to ensure that the presentation of evidence at this trial is concluded by the end of October 2005, the judges have practically gone back to the issue they considered at very beginning of the Milosevic case. After the prosecution had issued two new indictments against him, for Croatia and Bosnia and Herzegovina, in addition to the first one for Kosovo, the Chamber decided that the accused be tried in two stages: first separately for Kosovo and then jointly for Croatia and BH. In early 2002, however, the Appeals Chamber upheld the request in which the prosecution sought the joinder of the cases and a single trial on all three indictments.
The OTP spokesperson, Florence Hartmann did not want to comment on the latest order of the Trial Chamber, noting that it had been transmitted to the Office of the Prosecutor very recently. The Tribunal spokesperson, Jim Landale stated that the judges were simply considering this possibility - they want to obtain the views of the parties should they decide to take that path.