Home
THE PROCEDURE FOR THE ASSIGNMENT OF DEFENCE COUNSEL FOR MILOSEVIC SPEEDED UP
The Chamber called for another cardiological evaluation of the effects that Milosevic's continued self-representation might have on the future conduct of the trial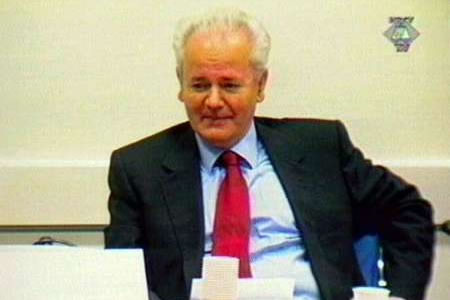 Slobodan Milosevic in the courtroom
The Trial Chamber hearing the case of Slobodan Milosevic asked today Dutch doctor Van Dijkman to present as soon as possible a report on the heath of the accused and his ability to continue to defend himself before the court. The report should also contain an expert evaluation of the effect that Milosevic's continued self-representation might have on the future conduct of the trial. Dr Van Dijkman is the most eminent Dutch cardiologist. Apart from Milosevic, he takes care of the royal family.
The Chamber has thus expanded its order of 6 July in which it sought that "an independent cardiologist with no prior involvement in the treatment of the accused" carry out such an examination.
The fact that the Chamber has sought Van Dijkman's opinion – in addition to the existing cardiological expertise - about Milosevic's ability to defend himself indicates that the procedure outlined in the order of 6 July 2004 has been set in motion. The order envisages that – if a conclusion can be drawn from the cardiologists' reports that continued self-representation might have a negative effect on the fairness and expeditiousness of the trial – the Chamber will commence the procedure for the assignment of legal counsel "to assist the accused in the preparation and presentation of his case, or, in exceptional circumstances, to take over the conduct of the defense."