Home
NATURAL-BORN SOLDIER AND TENDER HUSBAND
Character witnesses for General Pavle Strugar called. He is charged with the shelling of Dubrovnik in December 1991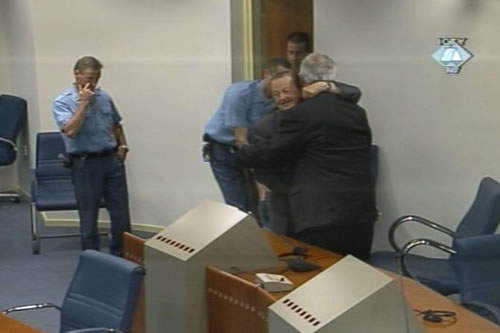 Ludvik Renko hugging Strugar in the courtroom
"General Strugar has a strong personality. He is a humane person, a real comrade, likes to help people and that is why, I think, he has made so many friends everywhere. I can claim with 100 percent certainty that he was not a nationalist. This is a man who respected all ethnicities."
This is how Strugar's former colleague from the JNA, a Slovene Ludvik Renko, described the character of the accused. After they graduated in the same class in the early 1950's at the Military Academy, they renewed their acquaintance at a military exercise in Slovenia 12 years later, when Strugar was a commander of a mountain battalion. Before Strugar's arrival in The Hague, the two friends met in 2002, at a class reunion in Belgrade. A photograph that the witness handed to the accused general at the end of his testimony, with the approval of the judges, is a memento of the event.
Renko remembered their class as not having been "poisoned by nationalism, chauvinism and racism." While they were still at the academy, the witness said, one could see that Strugar was "a natural-born soldier, a strict but just officer, a man with high moral standards, willing to listen to his subordinates."
Renko retired in 1986, as a JNA lieutenant colonel. The prosecution used the fact that he had already been retired at the time when Dubrovnik was shelled, 6 December 1991, to try to reduce the impact of his testimony about the character of the accused, noting that "the witness did not eye-witness what Strugar said and did in the course of the operations in the Dubrovnik theatre."
The wife of the accused, Katica Strugar, also testified about his character today, describing the general as a "sensitive and tender man" who loved his job very much. She said that, for Strugar, the events in 1990 and 1991 were "a tragedy", but - as he told her at the time - he "had to go to the battlefield, because he had made an oath to his country." When he learned of the indictment, Strugar told her that he would surrender to the Tribunal "in order to prove his innocence", certain that "justice will prevail."
Testimonies of character witnesses are meant to have bearing on the length of the sentence, should the accused be found guilty.