Home
ADMIRAL TAKES THE STAND AGAIN
The prosecution calls Admiral Miodrag Jokic to the witness stand in an attempt to challenge some of the testimony heard during the presentation of General Pavle Strugar's evidence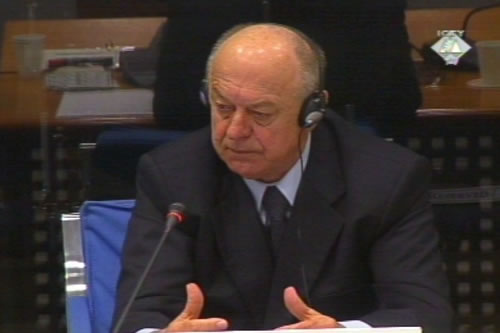 Miodrag Jokic, witness at the Pavle Strugar trial
After the defense of General Pavle Strugar, charged with the shelling of Dubrovnik in December 1991, rested its case, the prosecution called again its key witness, Admiral Miodrag Jokic. He pleaded guilty to the same crime last year and has been sentenced to 7 years in prison. The prosecution called him in an attempt to challenge some of the testimonies heard during the presentation of the defense case, challenging in turn Jokic's version of events in December 1991.
Contrary to the claims made by defense witnesses, former JNA officers Petre Handzijev and Miroslav Jovanovic, Admiral Jokic claims that on 5 December 1991 he was not at a briefing in Kupari. General Strugar's witnesses claimed that at that briefing the decision was taken to task the 3rd Battalion, commanded by Captain Vladimir Kovacevic a/k/a Rambo, with capturing the Srdj hill above Dubrovnik.
The admiral testified that on that day, once the cease-fire negotiations with the representatives of Croatian authorities in Cavtat were over, he went to Trebinje where he informed the command of the 2nd Operational Group and General Pavle Strugar that the cease-fire had been negotiated and that it was supposed to enter into force the next day, 6 December 1991. The order to cease any engagements was then relayed to the subordinate commands. Nevertheless, on 6 December, at dawn, an attack was launched. The Old Town of Dubrovnik was shelled and damaged in the attack.
Defence witness Handzijev previously told the Trial Chamber that he had eavesdropped on a telephone conversation between Jokic and General Veljko Kadijevic. Handzijev claims that he heard Kadijevic reprimand Jokic for "carrying out small tactical actions" around Dubrovnik, causing problems for the General Staff, where everyone was "doing their best to topple Tudjman". But Jokic stood by his claim that he had not received any calls on 6 December 1991, as he had been working the whole time to stop Kovacevic's "willful attack" on Dubrovnik. He insists that he did not talk to anyone on the phone that day, least of all with the then Chief of General Staff.
Goran Rodic, General Strugar's defense counsel, accused Admiral Jokic of ordering the capture of the Srdj hill without the knowledge of his superior command, which led to the shelling of the Old Town of Dubrovnik. The defense claims that Jokic, in an attempt to shift the blame for the consequences of the attack, accused Captain Kovacevic of having launched a "willful attack".
Replying that "there was not a shred of truth" in defense's claims, Admiral Jokic stood by the version of the events which he had presented in the course of his two-week testimony in late March and early April 2004.
The closing arguments of the prosecution and defense at the trial of General Pavle Strugar have been scheduled for 8 and 9 September 2004.