Home
JUDGES WILL VISIT THE "CRIME SCENE"
The chamber hearing the case of General Pavle Strugar will visit Dubrovnik and its environs during the summer recess in order to acquaint themselves with the locations where the parties to the conflict held their positions in late 1991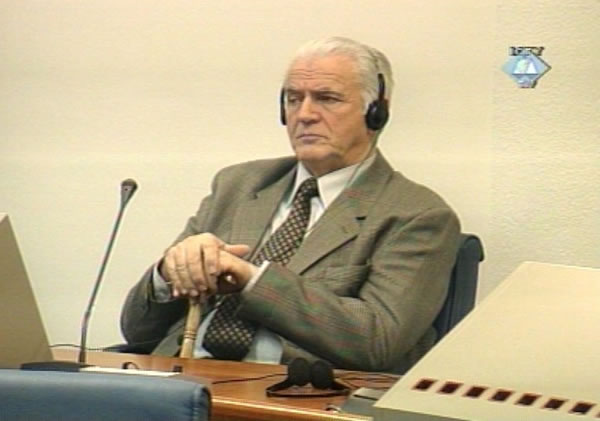 Pavle Strugar in the courtroom
Pavle Strugar's defense will conclude their case with a testimony of a military expert, by 28 July at the latest. Pursuant to the order of the Trial Chamber, the prosecution and defense should present their closing arguments in early September.
In the course of the summer recess, as announced today by Presiding Judge Kevin Parker, the judges will visit the "crime scene", i.e. the locations in Dubrovnik and its environs where the parties to the conflict – the JNA and the Croatian Army – held their positions in late 1991. Apart from the town of Dubrovnik, they will visit Srdj, Zarkovica, Bosanka, Cilipi and other locations mentioned during the trial. The lines of vision from these spots remain a point of controversy between the prosecution and defense.
The defense case so far has consisted of testimonies of former JNA officers, members of the Trebinje Brigade's 3rd Battalion, who participated in the attempt to capture the fortification of Srdj from the Croatian Army, on 6. December 1991. The forces were commanded by Captain Vladimir Kovacevic. General Strugar's defense counsel are trying to prove that Strugar, who was the commander of the 2nd Operational Group at the time, is not responsible for the attack. It is alleged that the chain of command from Kovacevic went to Miodrag Jokic, commander of the 9th Naval Sector, and then directly to the General Staff, and not to Strugar's 2nd Operational Group as the prosecution claims.
Furthermore, the defense is trying to prove that on 6 December the JNA units had the sole task of capturing the Srdj hill and the Old Town of Dubrovnik was "collateral damage" of the military action. Some of the shells that fell on Stradun street, witnesses claim, were the response to Croatian Army mortars firing on JNA positions from within the city walls. The witnesses claim that they were able to see the mortars "personally, with a naked eye" from the Zarkovica elevation, more than 2 km away from Dubrovnik.
The prosecution is trying to challenge the expertise and credibility of defense witnesses, lodging frequent objections to late and incomplete discovery of their statements, which makes it difficult for the prosecutors to prepare for the cross-examination.