Home
DUBROVNIK WOULD HAVE BEEN DESTROYED HAD IT BEEN TARGETED DELIBERATELY
Military expert called by General Strugar's defence claims that the JNA did not deliberately target Dubrovnik, and that the disposition of the Croatian forces posed a threat to the Old Town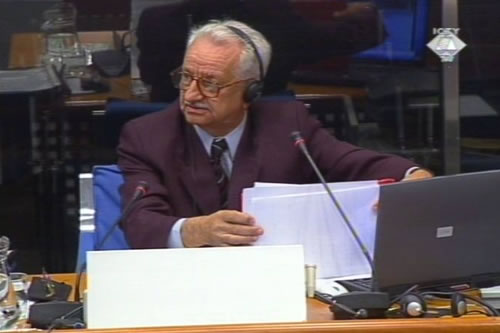 Janko Vilicic, witness in the Strugar case
Had the JNA targeted Dubrovnik deliberately, it would have been "practically destroyed", and since it was not practically destroyed, this means that it was not targeted deliberately. This is in short the conclusion reached by Janko Vilicic, retired JNA colonel, who was called by General Pavle Strugar's defence to testify as a ballistics expert.
General Strugar is charged with the shelling of the Old Town of Dubrovnik in December 1991. With Vilicic's testimony, the defence is trying to challenge the analysis presented by a prosecution expert, Slovenian colonel Jozef Poje, who said that the buildings within the Dubrovnik city walls were deliberately targeted from JNA positions.
The defence expert states that JNA mortars around Dubrovnik in December 1991 were positioned at a range which was two thirds of their maximum range, which according to him shows that they were stationed there for defensive purposes, not to attack Dubrovnik.
The expert draws this conclusion from the fact that on 6 December 1991 most of the shells hit the fringes of the Old Town, north of the Stradun street, while the damage to the city centre, as he explained, was negligible and caused by stray shells or bad weather - there was a strong northerly wind, he said, which deflected the shells from their original course.
In his expert report, The Case of the Shelling of the Old Town of Dubrovnik, Vilicic analysed the disposition of JNA firing positions in the Dubrovnik theatre relative to the targets - Croatian army positions. As he claims, each Croatian army position less than 500 m away from the Old Town posed a threat to its walls because the mortar shells targeting them could well have fallen on the city centre which was in the direction of their dispersion, in particular in light of the strong wind on 6 December 1991.
Colonel Vilicic's testimony will continue with the cross-examination by the prosecution.