Home
SENTENCING FOR VICE ADMIRAL JOKIC SCHEDULED FOR 18 MARCH
On 18 March, the Tribunal will pronounce the sentence for Miodrag Jokic. He pleaded guilty to the shelling of the Dubrovnik Old Town - Restricted communications regime extended for Vojislav Seselj and ended for Slobodan Milosevic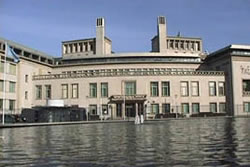 Sjedište Tribunala u Den Haagu
The sentence for the retired vice admiral Miodrag Jokic who pleaded guilty to the shelling of the Old Town of Dubrovnik in late 1991, will be pronounced on Thursday, 18 March – it was announced today at a press briefing at the Tribunal. The accused, who has been provisionally released, has been ordered to return to the UN Detention Unit on 16 March.
In late 1991, at the time when the former JNA was conducting the Dubrovnik operation, Vice admiral Jokic was the commander of the 9th Naval Sector of the Yugoslav Navy. The prosecution proposed a sentence of 10 years in prison, while the defence, pointing to the sincerity of Jokic's guilty plea and remorse, asked for a sentence not longer than two years in prison.
At the press briefing, the journalists were told that Deputy Registrar David Tolbert extended the restricted communications regime for Vojislav Seselj for another 30 days. The regime, that was introduced on 11 December 2003, applied both to Seselj and to Slobodan Milosevic. The explanation was that the two accused gave statements to the Serbian media which "undermined the mandate of the International Tribunal in its effort to bring about and maintain peace in the former Yugoslavia."
Just as in the previous three months, in the thirty days ahead Seselj will only be able to receive visits by and have telephone conversations with his legal counsel, diplomatic and consular representatives of Serbia and Montenegro and the closest family. According to the order of the Deputy Registrar, all his telephone conversations will be monitored, except the ones with his legal counsel, while the visits of family members will be monitored in a way determined by the commanding officer of the Detention Unit.
Since the latest Tolbert's decision refers exclusively to Seselj, this means that as of yesterday, the restricted communications regime for Slobodan Milosevic is no longer in force. According to Jim Landale, spokesperson for the Tribunal, Milosevic's health has improved in the meantime and he has started working on his defence, set to begin on 8 June.