Home
JUDGE MAY RESIGNS
The Hague Tribunal announced that the Presiding Judge of the Trial Chamber hearing the case of Slobodan Milosevic resigned for health reasons. President Meron is confident that the resignation of Judge May, effective 31 May this year, will not have "an unduly disruptive effect" on any proceedings before the Tribunal.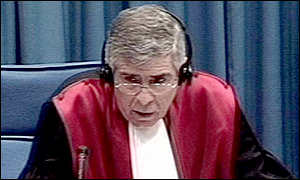 Richard May, judge at the Slobodan Milosevic trial
Judge Richard May, Presiding Judge of Trial Chamber III, trying Slobodan Milosevic, has resigned as a judge of the International Criminal Tribunal for the former Yugoslavia, stated Judge Theodor Meron, President of the ICTY, today. The resignation is effective 31 May 2004, and was tendered due to health reasons, as his recent illness will make it "increasingly difficult for him to continue the performance of his duties", the President's statement reads.
President Meron has informed the UN Secretary-General, Kofi Annan, about the resignation. It is now up to him to appoint, in accordance with the Statute, a British judge to replace Judge May for the remainder of his term of office which ends next November.
In his statement, President Meron gives Judge May credit for the carrying out of the mandate of the Hague Tribunal. Since taking the oath of office in November 1997, Judge May has participated in the trials and judgments in the cases of Furundzija and Kupreskic et al., he was the presiding judge of the chamber which convicted Dario Kordic and Mario Cerkez and was the presiding judge of the appeals chamber in the Aleksovski case.
President Meron praises Judge May in particular for his successful, "creative and effective" handling of the Milosevic case, and for "extraordinary skill" evident from the striking as a presiding judge of an appropriate balance between the "rights of the accused and efficient trial management".
Expressing his gratitude to Judge May for his contribution to the Tribunal in the past six and a half years of service and wishing him a "full and swift recovery", President Meron at the end of his statement expresses his confidence that Judge May's resignation will not have "an unduly disruptive effect" on any proceedings before the Tribunal.