Home
EUROPEAN COMMISSION: FIRM SUPPORT FOR CARLA DEL PONTE
Only Carla del Ponte will decide on the venue for the trial of the persons indicted by the Tribunal, says European Commission spokesperson after the new Serb Prime Minister Kostunica announced that the cooperation in the transfer of the accused to The Hague would be limited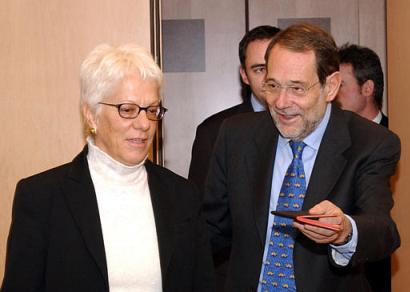 Carla del Ponte and Javier Solana
The European Commission has given full support to the Chief Prosecutor of the Hague Tribunal, Carla del Ponte, stating that it is up to her and her alone to decide where the trials of the persons indicted by the Hague Tribunal would be held. This has become a hot issue again after the inaugural address of the new Serbian Prime Minister, Vojislav Kostunica, who stated that his government would be pro-European and would present a pro-reformist platform, but at the same time announced that the cooperation with the Tribunal would be limited, particularly as regards the transfer of the indictees and their trial in The Hague.
When asked what the position of the European Commission was on Kostunica view, the spokesperson of Commissioner Chris Patten, whose portfolio includes the Western Balkans, stated that the Commission, in regard to who should be transferred to The Hague, would be guided solely by the decisions of the Chief Prosecutor.
"It is not up to us to decide where trials should be held. It is exclusively up to Carla del Ponte. We do not interfere and do not question her decisions. The only message we have to convey is that we want Carla del Ponte to get the kind of cooperation she demands," says Emma Udwin in an interview with SENSE, adding, "We fully support Carla del Ponte. We do not tell her what she should want or ask for."
The spokesperson of the Foreign Affairs Commissioner added that the European Union "supports Serbia and Montenegro in many different ways, for instance, politically and economically, but it stands firm on the position that Carla del Ponte must get what she wants."
Commenting on Kostunica's speech, Udwin said that Serbia and Montenegro would have full support for their ambition to create firmer ties with the EU. But if the Serbian Government has set its sights on European integrations, then compliance with the international obligations, in other words, cooperation with The Hague, is a must. The European Commission determines whether the Feasibility Study, the first step towards the Stabilization and Association Agreement between Serbia and Montenegro and the EU would be a positive one, and whether Belgrade would be allowed to start the negotiations about this very favorable arrangement which has been tailored specifically to fit the Western Balkans.
Solana's spokesperson, Christina Gallach, expressed a similar view in a separate interview. "It is up to the Tribunal to decide whom to try and where. It is not in the jurisdiction of the EU but of the Tribunal alone", stated the spokesperson of the European foreign affairs and security chief.