Home
WHO COULD PUNISH THE CRIMES IN CENTRAL BOSNIA?
The prosecutor at the trial of Enver Hadzihasanovic and Amir Kubura presents evidence on how the Bosniak crimes against the Croat and Serb population in Central Bosnia were (not) punished. The witness, former public prosecutor in Zenica, reminds the trial chamber that the military court had jurisdiction over crimes committed by the military, and that it was hard to obtain statements from the Croat victims.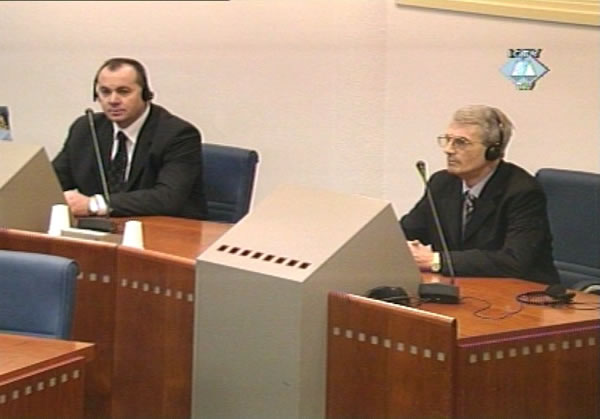 Enver Hadzihasanovic i Amir Kubura in the courtroom
After the prosecution spent three months presenting evidence about the crimes base, i.e. specific crimes committed, according to the indictment, by the BH Army members in Central Bosnia, today they moved to the topic of the punishment of those crimes, by putting the former public prosecutor in Zenica on the witness stand. This is the key issue in this case, since the two accused – former commander of the BH Army 3rd Corps, Enver Hadzihasanovic, and former commander of the 7th Muslim Brigade, Amir Kubura – stand accused on the basis of their command responsibility for the alleged failure to prevent or punish the crimes.
Witness Sulejman Kapetanovic was the senior public prosecutor for the region of Central Bosnia from May 1993 to early 1994, during the period covered by the indictment. He confirmed to the prosecutor that he "did not have any cases" dealing with the crimes committed by BH Army members against Croat civilians. "If I had [had such cases], they would have been prosecuted," the witness claimed, offering an explanation for the situation. He reminded the trial chamber that parts of Central Bosnia were under the HVO control. He said that the Croat population, including the victims of crimes, withdrew to these areas and gave statements there, and that he never received any complaint from them and was otherwise unable to take their statements.
Furthermore, when it comes to crimes committed by BH Army members, as a rule, the District Military Prosecutor and the military court had jurisdiction over them, while Kapetanovic, as a public prosecutor, had jurisdiction to prosecute crimes committed mostly by civilians. He listed only four cases where war crimes were prosecuted by his office: they concerned proceedings against Bosniaks in the Serb military or against HVO members. When asked by the prosecutor about the number of cases forwarded to his office by Hadzihasanovic's 3rd Corps, the witness replied that he did not remember it.
In their cross-examination, the defence put it to the witness that investigations and trials in Zenica in 1993 were almost impossible to conduct due to the war, shortages and restrictions of movement. The witness confirmed it. Kapetanovic further confirmed the defence submission that in Zenica he tried to put an end to the "black market" in stolen goods and that he prosecuted Bosniaks who had killed or robbed Croats and Serbs in Zenica. The defence stated that such crimes were not systematic war crimes but isolated criminal incidents.