Home
PROSECUTION CALLS FOR 15 YEARS IN PRISON FOR GENERAL DELIC
At the end of its closing argument, the prosecution calls for 15 years in prison for Rasim Delic, former commander of the BH Army General Staff. Delic is on trial on charges of failure to prevent or punish crimes committed by the Mujahideen in the Central Bosnia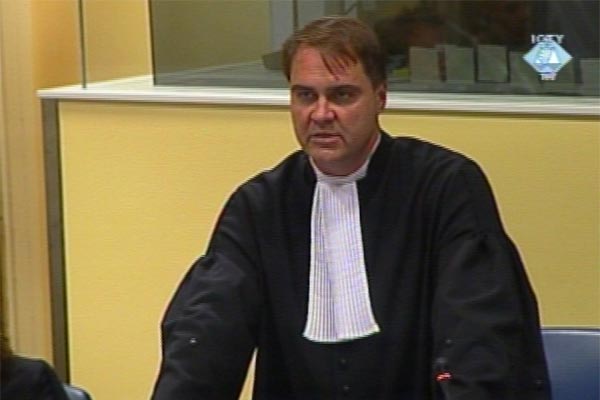 Daril Mundis, prosecutor in the Tribunal
In its closing arguments, the prosecution asked for a sentence of 15 years in prison for the former commander of the BH Army General Staff, Rasim Delic because he failed to prevent or punish the crimes that, as alleged in the indictment, were committed by the members of the El Mujahid Detachment in the summer of 1993 and in the fall of 1995 in Central Bosnia.
Darryl Mundis, senior trial attorney for the prosecution in the General Delic case, believes that the evidence clearly proves that the accused had direct command over the El Mujahid Detachment. Delic was in control of the 3rd Corps and the detachment was its part from August 1993 to the end of the war in BH.
The prosecutor found irrelevant the claims made by the defense of General Delic that all major decisions in the El Mujahid Detachment were not made by the BH Army but by the Mujahideen supreme body called the shura. In his view, it is enough for the Army to issue orders that the detachment obeyed for Delic to be convicted.
On the other side, General Delic's defense reiterated its argument that the responsibility of the accused had not been proved on any of the counts in the indictment. When the crimes in the village of Bikosi were committed, on 8 June 1993, General Delic did not have effective control of the Mujahideen troops, because he was appointed the commander of the BH Army General Staff a few hours later. General Delic did not subsequently receive any information about that and other crimes committed by the numerous foreign fighter groups operating independently, the defense contends.
Vasvija Vidovic, Delic's lawyer, emphasized the role Delic played in the efforts to establish peace in BH. Delic also 'worked hard' on the turning the BH Army into a professional military, in extremely difficult circumstances, she added. When the prosecutor asked if the turning the army into a professional force implied the inclusion of the Mujahideen in its ranks, defense counsel Vidovic replied that the international community insisted the Mujahideen be placed under BH Army control.
The defense went on to stress that the BH Army never did establish effective control over the El Mujahid Detachment., which was established in August 1993 and was subordinated to the BH Army 3rd Corps. On the contrary, the defense stressed, there was a parallel chain of command and reporting in the detachment: the man at the top was Sheik Anwar Shaban, whose headquarters was in the Islamic Center in Milan.
Declaring the trial over, the judges said that the judgment would be delivered soon.