Home
CALL FOR REVIEW OF RASIM DELIC'S CONVICTION
The defense of the late Rasim Delic has called for a review of the judgement of the former BH Army Main Staff commander. He was found guilty of failing to prevent and punish the crimes of the Mujahideen. According to the defense, the basis for the review is the 'bias' of Danish judge Harhoff shown in his 'private letter'. The letter was leaked to the press last week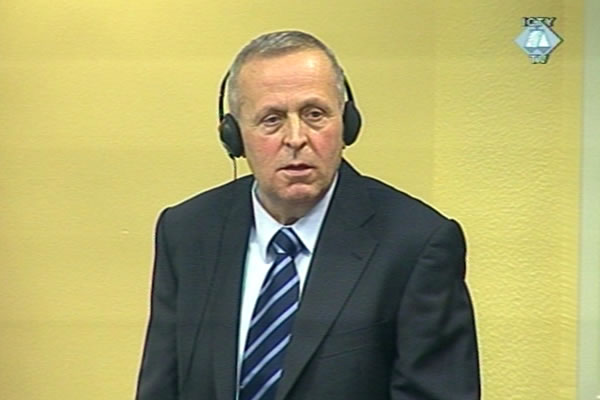 Rasim Delic in the courtroom
Last week, Judge Frederik Harhoff's 'private letter' was published in Denmark and in the rest of the world. In the letter, Judge Harhoff expressed his concern over the 'new course' of the Tribunal under the leadership of President Meron. This prompted the defense of the late BH Army Main Staff commander Rasim Delic to file a motion for a review of Delic's conviction. The Trial Chamber found Delic guilty of failing to prevent and punish the Mujahideen's cruel treatment of captured Serb soldiers in July and August 1995. Delic was sentenced to three years in prison. The appellate proceedings were suspended after Delic passed away in April 2010.
In today's motion, Delic's defense counsels Vasvija Vidovic and John Jones note that Judge Harhoff showed 'unacceptable bias' towards the conviction of accused persons before the ICTY when he described the recent acquittals as 'driven by US and Israeli machinations'. The defense argues that Harhoff thus called into question the decisions of the presiding judge Theodor Meron. As Vidovic and Jones note, Meron is a 'judge of unimpeachable international reputation and renown'.
On the other hand, by writing the controversial letter Judge Harhoff committed a 'serious misconduct and breach of duty of the judge', Delic's defense argues. Harhoff's 'bias' was not known at the time of the trial and according to the defense, it could have been a decisive factor in reaching the final decision. Other members of the Trial Chamber that sentenced Delic included presiding judge Bakone Moloto and Judge Flavia Lattanzi.
In the interest of justice, the defense seeks a revision by quashing of the first instance judgment, or, alternatively, the rendering of the appeals judgment. Under the Tribunal's rules, a call for a review can be filed only if new facts come to light, that were unknown to the parties during the trial and the appellate proceedings. The defense considers that the 'bias' it attributes to Judge Harhoff meets this criterion.
In the motion calling for a review, the defense quoted a recent SENSE story, calling SENSE the 'Tribunal's official news agency'. As we have had a very good working relationship with Ms. Vidovic and Mr. Jones over the years, we are sure that they know all too well that SENSE is an independent agency without any ties with the Tribunal. We must conclude with some regret that this was an instance of tendentious misrepresentation of the facts. The Tribunal doesn't bear any responsibility for our coverage of the trials. Likewise, the SENSE agency is not responsible in any way for the judgments rendered by the Tribunal.