Home
TWO ANSWERS TO THE SAME QUESTION
In the closing arguments at the hearing before the International Court of Justice, Belgrade's representatives note that in 2004 the highest world court ruled it lacked jurisdiction in a case Serbia instituted against NATO member states. If the court were to find now it did have jurisdiction in the case brought by Croatia, it 'would give two answers to Serbia to the same question'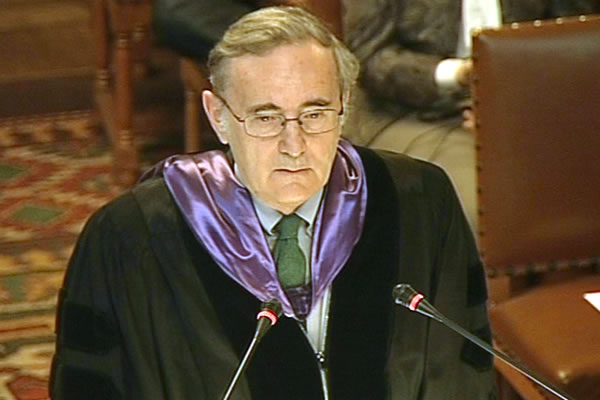 Tibor Varady, chief legal representative of Srbija and Montenegro
In their closing arguments before the International Court of Justice, Serbia's legal counsel urged the highest world court to declare it lacked jurisdiction to hear the case instituted by Croatia in 1999, accusing Belgrade of violating the Convention on the Prevention and Punishment of the Crime of Genocide in the 1991-1995 war. Alternatively, Serbia asked the court to find it lacked jurisdiction for the crimes committed before 27 April 1992, the date when the Federal Republic of Yugoslavia was formally constituted as a state.
Serbia's legal counsel today responded to Croatia's arguments. In the first round of presentations, Croatia's counsel argued there were similarities between the genocide cases in Croatia and Bosnia'. Professor Tibor Varady, representing Belgrade, notes that 'Bosnia's case has been concluded', and that both the highest world court and the ICTY have found there was genocide. As far as Croatia is concerned, Varady said, 'no charges of genocide have ever been brought' before the Tribunal.
Professor Varady admits 'there is a link between various conflicts in the former Yugoslavia', going on to say that the intent of the Milosevic regime to create a Greater Serbia is not the only link. In this context, he quoted parts of an ICTY judgment finding that 'the armed forces of the Republic of Croatia participated in the conflict in the territory of Bosnia and Herzegovina'.
Serbia's representatives responded to other arguments presented by Croatia to support the claim that the International Court of Justice had jurisdiction in this case. As Serbia's legal counsel Vladimir Djeric said today, the highest world court already found it lacked jurisdiction in the case Serbia instituted against NATO member states in 2004. If the court were to find now it did have jurisdiction in the case brought by Croatia, it 'would give two answers to Serbia to the same question'.
Professor Varady noted the 'inconsistencies' in Croatia's position vis-à-vis the status of the FRY in the UN. Before instituting the proceedings in June 1999, Croatia used every opportunity to challenge the claim the FRY was the successor of the SFRY, its membership in the United Nations and its status before the International Court of Justice, Varady noted. 'The shift in the position,' Varady went on to say, was not a consequence of 'political changes but of Croatia's changing interests'.
Croatia's counsel will present their closing arguments tomorrow.