Home
MLADIC SEEKS DISQUALIFICATION OF THREE APPELLATE JUDGES
According to Ratko Mladic's defense, the statements and judgments produced by judges Meron, Agius and Pocar have to a large extent violated the right of the accused VRS Main Staff commander to be presumed innocent. As this gives rise to 'a reasonable apprehension of bias', the judges should be disqualified from the Appeals Chamber which will consider the defense's motion citing violations of their client's right to a fair trial and the presumption of innocence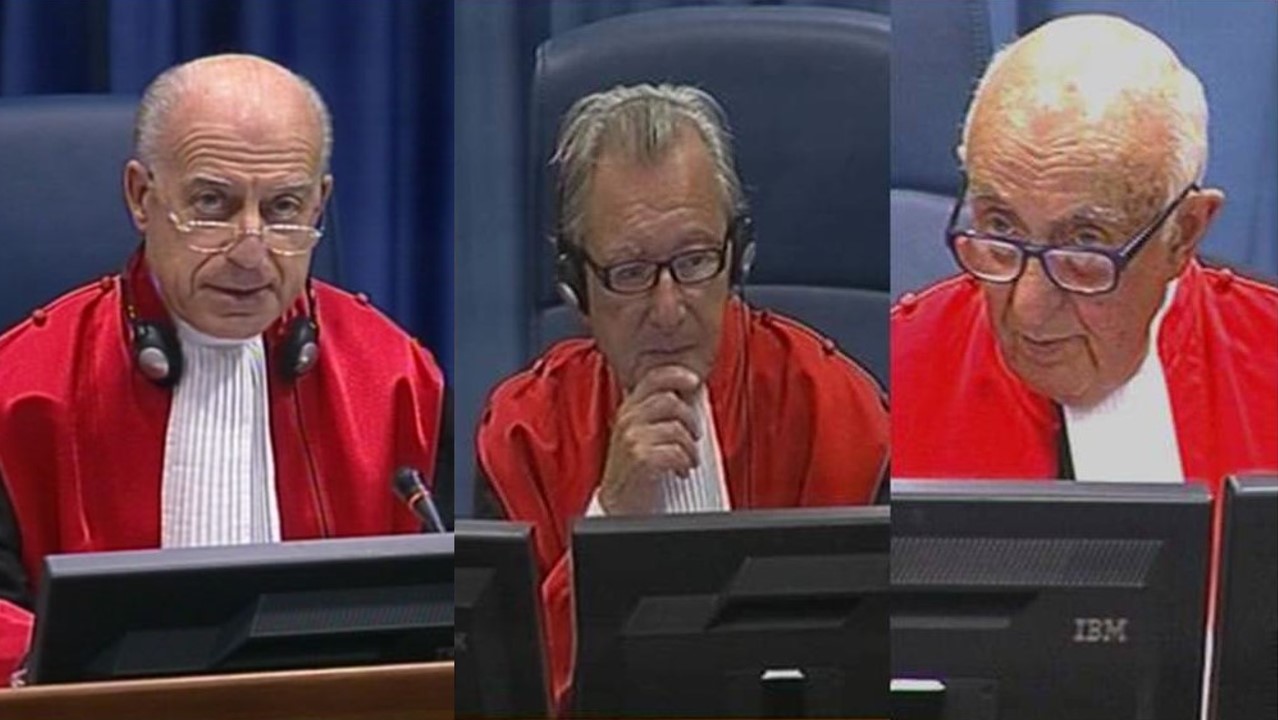 Judges Fausto Pocar, Carmel Agius, Theodor Meron
Last week the Tribunal's President appointed five judges to consider Ratko Mladic's appeal against the Trial Chamber's decision to reject the defense's motion in which they sought to be given 'guarantees of a fair trial and the presumption of innocence'. Now, the defense of the former VRS Main Staff commander has submitted another motion in which they call for the disqualification of no less than three members of the Appeals Chamber.
Defense lawyers Branko Lukic and Miodrag Stojanovic allege in their motion that judges Theodor Meron, Carmel Agius and Fausto Pocar violated the right of the accused to be presumed innocent. According to Mladic's defense, the appellate judges did so in the statements they made while they served as the Tribunal's presidents and in the judgments rendered by the trial and appellate chambers on which they sat.
In the motion seeking disqualification of Judge Meron the defense claims that the statement he made in 2003, that it was the Tribunal's mission was to put on trial 'those most responsible for the gravest crimes...specifically Karadzic and Mladic' was prejudicial. Judge Meron also said that the Tribunal's work would not be completed until Karadzic and Mladic were brought to justice. According to the defense, nobody would think to call to 'bring innocent individuals to justice' and such phrasing clearly 'implies guilt'.
According to the defense, judges Pocar and Agius violated the principle of the presumption of innocence in their judgments. Judge Agius was the presiding judge in the case against seven Bosnian Serb military and police officers who were tried for the Srebrenica genocide. In support of their demand for the disqualification of the two judges, the defense lawyers list a number of instances in which when the presumption of Mladic's innocence was violated. The list includes the finding that the criminal plan had originated from the 'highest level of the VRS Main Staff' including Mladic. Furthermore, Mladic acted as the 'central, pivotal force of the joint criminal enterprise' and played a key role in the forcible transfer of population. Ljubisa Beara's trial judgment found that the security chief in the VRS Main Staff was close to Mladic; this was considered as an aggravating circumstance.
According to the defense, all those elements could lead a 'reasonable observer to reasonably apprehend bias', and that would constitute grounds for the disqualification of a judge.
The other two judges in the Tribunal's Appeals Chamber set to consider the original defense's motion are Liu Daqun and Burton Hall.