Home
DECISION TO END MLADIC'S DEFENSE CASE WILL NOT BE RECONSIDERED
The Trial Chamber is busy tying off the loose ends in a bid to bring the trial of the former commander of the VRS Main Staff to an end. Mladic is charged with genocide, crimes against humanity and war crimes in Bosnia and Herzegovina from 1992 to 1995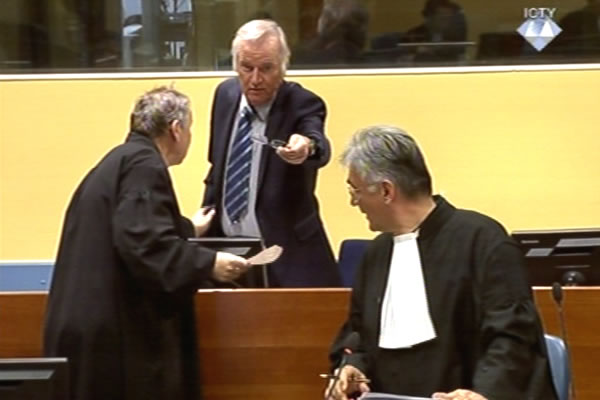 Ratko Mladic in the courtroom
Following its recent rejection of Mladic's defense motions in which he sought the disqualification of judges and either the stay of the proceedings or a mistrial, Judge Orie's Trial Chamber today dismissed another motion filed by the accused. Mladic's defense wanted the judges to reconsider the decision to end the defense case. The defense's alternative proposal, to be granted leave to appeal against the Trial Chamber's decision, was also rejected.
As the trial judges note, the defense failed to show that the Trial Chamber made a 'clear error in judgment justifying a re-consideration of the decision'. The request for permission to file an appeal was denied because the defense failed to prove how the decision to end the defense case could have significantly affected the fairness and expeditiousness of the trial or its outcome.
With its decision, the Trial Chamber continues to tie off loose ends in a bid to bring to an end the trial of the former commander of the VRS Main Staff. Mladic is charged with genocide, crimes against humanity and war crimes in Bosnia and Herzegovina from 1992 to 1995.
Two other defense motions are still pending. In the first one, the defense demands to be given guarantees of a fair trial. In the other, they ask permission to call Hakija Meholjic, a former member of the Srebrenica war presidency, as a witness. Alternatively, the defense wants the Trial Chamber to admit into evidence Meholjic's public statements about the Sarajevo government willingly sacrificing Srebrenica to provoke a NATO military intervention. The Trial Chamber is expected to render its decision of the two motions soon.
The closing arguments at Ratko Mladic's trial are slated to take place from 5 to 15 December 2016.