Home
LOGICAL CLASH OR WHAT IS BOTHERING GENERAL PRALJAK
At a status conference in the appellate proceedings in the case against former Herceg Bosna leaders, General Slobodan Praljak asked a question that 'has been bothering me for a long time', which concerned proof 'beyond reasonable doubt'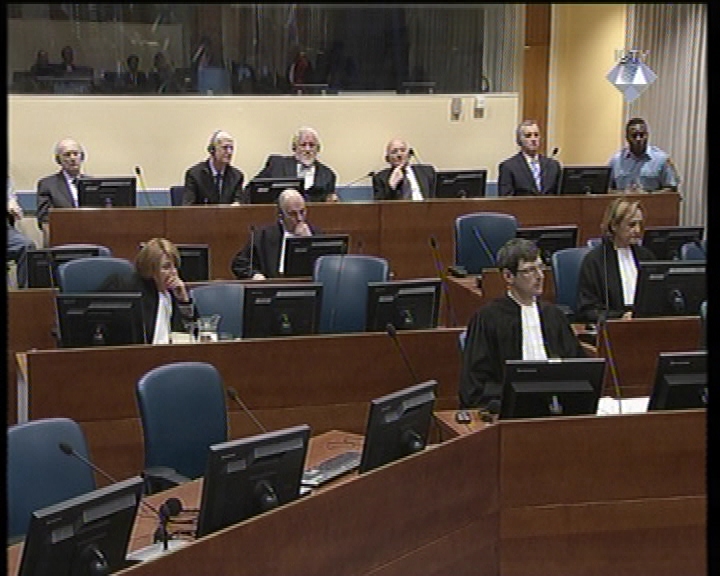 Jadranko Prlic, Bruno Stojic, Slobodan Praljak, Milivoj Petkovic i Valentin Coric in the ICTY courtroom
A regular status conference was held today at the Tribunal in the appellate proceedings in the case against six former Herceg Bosna leaders. Jadranko Prlic, Bruno Stojic, Slobodan Praljak, Milivoj Petkovic and Valentin Coric were all present in court and stated yet again that they didn't have any complaints about the conditions in the detention unit or about their health. Berislav Pusic who has been provisionally released was represented by his lawyer Fahrudin Ibrisimovic, who called in via video link from Sarajevo.
Praljak was the only accused who took the opportunity to address the judges. He asked presiding judge Carmel Agius a question that 'has been bothering me for a long time'. The question concerns the standard of proof applied at the Tribunal, which requires that all charges must be proven 'beyond reasonable doubt'. Praljak noted that it was common practice at the Tribunal for the trial chambers to render judgments with a majority of votes. There are three judges in each trial chamber. Thus, Praljak noted, sometimes two judges, i.e. 66 per cent of a trial chamber are convinced that an individual is guilty and the third judge, or 33 per cent of a trial chamber, has a dissenting opinion.
In Praljak's view, this was an 'aporia', or a 'logical clash', because '66 per cent cannot meet the standard of proof beyond reasonable doubt', unless it implied that the dissenting judge 'is unreasonable'. As Praljak told Agius, he had searched for the answer in books and had asked lawyers but wasn't able to get a 'good answer' or arguments that would convince hims that guilt established at 66 per cent could be in line with the requirement that the guilt should be proven 'beyond reasonable doubt'.
Maltese judge Agius replied that giving advice to the parties lay outside of his remit. He advised Praljak to consult his legal advisers, adding that at the International Tribunal, decisions were reached unanimously or with a majority of votes. It was impossible to look at it the way Praljak did, in terms of percentage points, Judge Agius clarified. The key issue is whether the majority of judges are convinced that charges have been proven beyond reasonable doubt or not. The fact that there could be a minority that does not share this conviction does not affect the majority's decision, Judge Agius explained.
In May 2013, the Trial Chamber found the former Herceg Bosna leaders guilty of the crimes perpetrated during the Croatian-Muslim conflict in BH in 1993 and 1994. Former BH prime minister Jadranko Prlic was sentenced to 25 years in prison. Defense minister Bruno Stojic and two HVO commanders, Slobodan Praljak and Milivoj Petkovic, got 20 years in prison each. Valentin Coric, military police commander, was sentenced to 16 years and Berislav Pusic to 10 years in prison. Pusic was the head of the Commission for the Exchange of Prisoners. The sentences were rendered unanimously, but there were dissenting opinions regarding some parts of the judgement itself.