Home
JUDGE MERON'S LETTER TO KARADZIC
The President of the Mechanism for the International Criminal Tribunals has responded to the complaints raised by the former Republika Srpska president at a status conference on 6 April 2016. Karadzic complained about the conditions in the detention unit and about 'frequent malignant diseases' among the inmates in the UN Detention Unit. Karadzic also complained about the slow and outdated computer he had at his disposal in his cell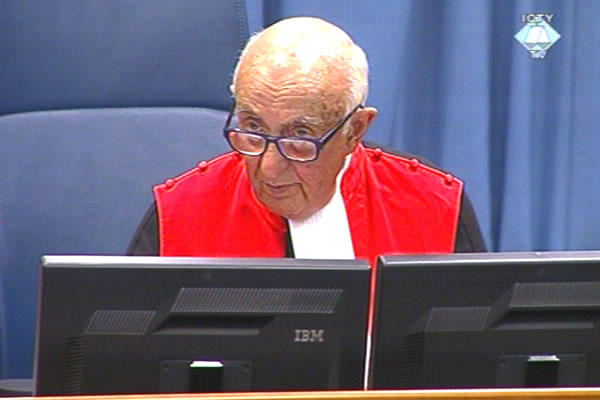 Theodor Meron, president of the Tribunal
Judge Theodor Meron, the President of the Mechanism for the International Criminal Tribunals, has sent a letter to Radovan Karadzic, who is currently working on his appeal in his prison cell in the UN Detention Unit. On 24 March 2016, the Trial Chamber found Karadzic guilty of genocide and other crimes in Bosnia and Herzegovina and sentenced him to 40 years in prison.
The judge replied to the questions Karadzic had asked at an extraordinary status conference on 6 April 2016. The accused made a series of complaints to the conditions in the Detention Unit and their impact on his health and the health of other detainees. 'Many people', Karadzic said, 'succumbed to fatal malignant diseases'. Yet, as Karadzic alleged, 'no one has investigated it'.
In a letter to the accused, the judge cites the report on the conditions in the Detention Unit submitted by the MICT Registrar. According to the report, the International Committee of the Red Cross inspects the conditions in the UN Detention Unit on a yearly basis. Holland, as the host state, regularly checks the functioning of all the facilities in the UN Detention Unit, their maintenance and state of repair. According to Judge Meron, the 'regular maintenance and upgrade of the ventilation system in all cells' is currently being performed.
The president informs Karadzic that the MICT Registrar has asked the International Commission for the Red Cross and the commanding officer of the Detention Unit to submit additional information on any further assessments of the conditions in the UNDU that could be undertaken. The Registrar is also expected to submit further information pertaining to Karadzic's allegation that there has been'a spate of malignant illnesses among the detainees'. Judge Meron has promised Karadzic that he will address the issue later.
Finally, regarding Karadzic's complaints about the poor quality of his computer, Judge Meron explained to him that the Tribunal's IT servicewas in the process of upgrading all the computers that are available to the detainees. Karadzic's computer will be upgraded by 13 May 2016, Judge Meron noted.
At the end of the letter,Judge Meron expresses his hope that he has addressed Karadzic's concerns, urging the accused to contact him if he wishes to raise any other issues.